ASUS ROG Strix SCAR 15 G533 lasts for up to 15 hours on battery power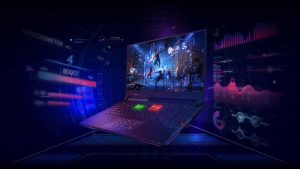 When choosing a gaming laptop, battery life isn't one of the first things that come to mind. Obviously, performance is the main metric that you look for, with the display being the secondary. Everything else, like the battery life, isn't considered as important most of the time gaming laptops will be plugged in.
However, sometimes flagship laptops manage to bring everything that a consumer might want. Such is the case with the ASUS ROG Strix SCAR 15 G533, which packs a big battery unit that scores really well in our tests.
Today we are giving you a showcase of the battery life of the ASUS ROG Strix SCAR 15 G533.
ASUS ROG Strix SCAR 15 G533: Full Specs / In-depth Review

Battery life
The laptop brings a huge 90Wh battery unit, which is hidden behind the bottom panel. It is held by 11 Phillips-head screws.

Now, we conduct the battery tests with Windows Better performance setting turned on, screen brightness adjusted to 120 nits, and all other programs turned off except for the one we are testing the notebook with. The battery unit managed to last for 15 hours and 4 minutes of Web browsing and 10 hours and 45 minutes of video playback. Here is it against other competitors.
In order to simulate real-life conditions, we used our own script for automatic web browsing through over 70 websites.
For every test like this, we use the same video in HD.
All ASUS ROG Strix SCAR 15 G533 configurations: