ASUS ROG GX700VO – the water-cooled gaming beast with desktop-like performance just popped out in Europe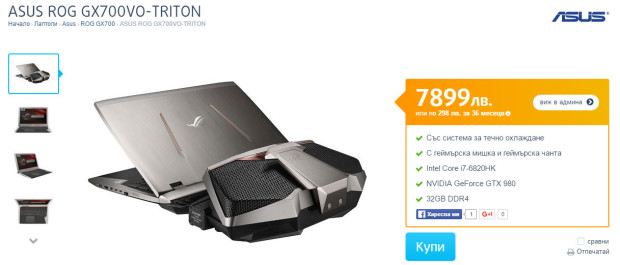 Not long ago ASUS revealed its plans to start shipping a more powerful version of their flagship gaming laptop, the ROG G752. The more premium version, however, carries a different name and for a reason. The ASUS ROG GX700VO-TRITON features desktop-like hardware and performance with an additional water-cooled docking station that should be able to keep up with the extra heat from the demanding hardware.
The spec sheet continues with the overclockable mobile Skylake CPU – Core i7-6820HK, desktop-grade NVIDIA GeForce GTX 980 (8GB GDDR5) GPU, 32GB of DDR4-2800 RAM and two 256GB SSDs – probably one 2.5-inch and one M.2 PCIe NVMe stick. There are also a full range of ports – 3x USB 3.0, 2x USB 3.1 Type-C (one supporting Thunderbolt standard), mini DisplayPort, HDMI, etc. The back side, of course, features connectors and pipes for the water cooling docking station in order to access the full potential of the hardware.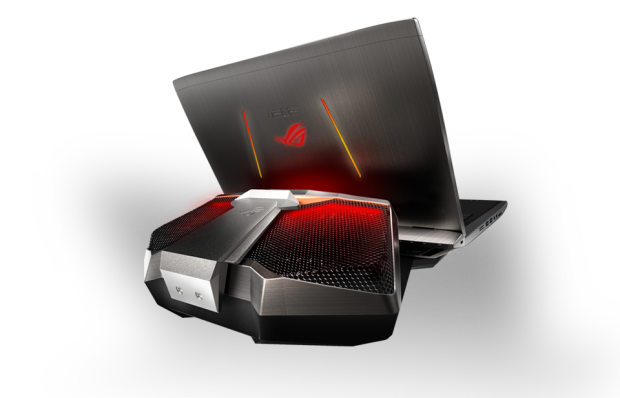 Anyway, the design and features don't vary much from the original ROG G752, but you can surely squeeze out incredible performance from this gaming beast. Unfortunately, though, the asking price is the eye-popping a little over €4 000. We weren't able to find the machine on any other retailer, so if you have more info on the matter, don't hesitate to share in the comment section below.