ASUS ROG GL752 also uses PWM for screen dimming (0-99%)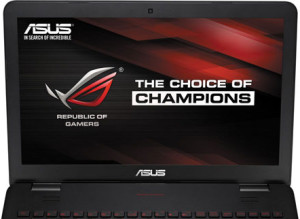 There are just a few things setting apart the 15-inch GL552VW and the 17-inch GL752VW gaming notebooks but the use of PWM isn't one of those things. Our oscilloscope indicates that the display is flickering from 0 to 99% screen brightness, speaking of which, the maximum brightness is 272 cd/m2. And since this isn't very high, you will most probably use it maxed out during the day.
However, the GL752's screen is emitting light at 1 kHz frequency while the GL552 flickers at 20.6 kHz. That being said, the GL552's panel is less harmful to your eyes (higher the frequency, the better). Here's how both laptops stack against each other.
You can find the GL752VW here and if you are interested in the GL552VW, click here.