ASUS ROG G751JY + G-Sync doesn't use PWM across all brightness levels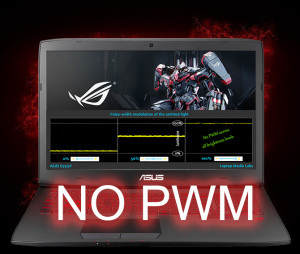 Good news to present and future owners of this G-Sync-enabled gaming beast – ASUS ROG G751JY. We published a full review a while ago, but due to some technical difficulties we couldn't publish the results from our PWM test. At least now we know that the wait was worth it.
Our tests show that ASUS' initial claims were true and the G-Sync display used in this notebook is absolutely harmless to your eyes because it doesn't emit aggressive light pulsation. The graph below shows that PWM is missing throughout all brightness levels.

You can read the full review of the model here: http://laptopmedia.com/review/asus-rog-g751jy-g-sync-review-the-g-sync-is-the-finishing-touch-thats-been-missing-on-this-gaming-beast/
And you can also check the price and availability of the notebook here: http://amzn.to/1KwL6rR