ASUS reveals the specs and features of its revamped ROG G752

Not long ago ASUS shared some details about upcoming, or already released, models that will feature the new Skylake processors, but along with that the company unveiled, well sort of, the new ASUS ROG G752. We were only told that the new flagship ROG notebook will be accommodating the Core i7-6700HQ and Core i7-6820HK, but we already knew that.
However, today we are fully aware of what the new series will offer, aside the totally new aluminum design, and there will be more affordable variants with NVIDIA GeForce GTX 970M and 965M as well. For now, the company has released models with the Core i7-6700HQ paired with the aforementioned GPUs or GTX 980M. The amount of RAM can go up to 64GB DDR4 2133MHz thanks to the four available slots on the motherboard. This puts it in par with the Acer Predator gaming laptop. As for the display options, the only available at the moment are with Full HD IPS panel with G-Sync or without it. We are eager to see the UHD version too.
Another interesting feature is the new NVMe supported storage options. We already talked about Samsung's insanely fast NVMe SSDs and it looks like the new ROG can take advantage of those. Anyway, the available storage configurations include up to 2TB HDD, paired with 128 or 256GB PCIe x4 SSDs. There's also a new Type-C port that supports not only USB 3.1 standard, but Thunderbolt 3 interface as well. This means you can connect an additional external display, besides the HDMI port, or use it for super-fast data transfer.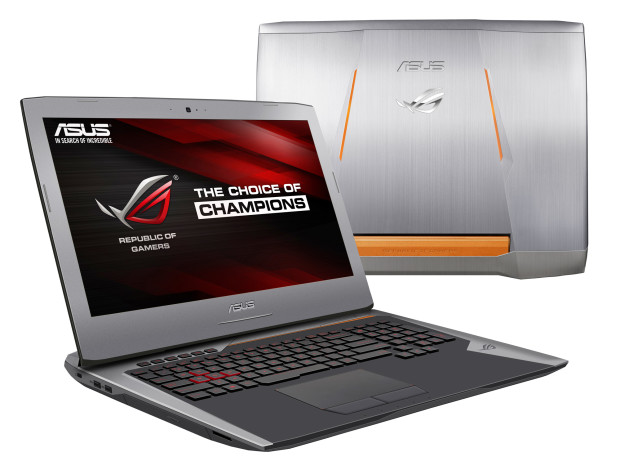 And last, but not least, the new notebook includes a slightly upgraded keyboard with special LED backlight that's suitable for FPS, MOBA or RTS games. Also, the travel distance of a single key is now 2.5 mm for additional comfort for typing and gaming. Other features like subwoofer, effective cooling system etc. are inherited from the last generation. You can take a closer look at the notebook at ASUS' official website.
You can take a look at the pricing of and availability at the following link: http://amzn.to/1jCrXvI