ASUS N751JK taken apart – handles well high temperatures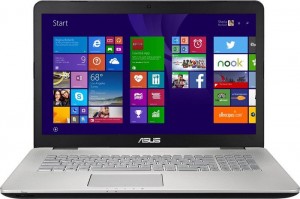 For almost every review about a notebook we write, we take the time to fully disassemble the device in order to inspect the internals and see how the engineers built the cooling system. In this case, we took apart the ASUS N751JK and you can see all the hardware on the two images below.
We see that the GPU and CPU are well placed apart and do not share the heat. Also, the heat pipes are long and will likely provide good heat dispersion. Cooling fan appears to be powerful, and in our opinion, very silent. However, the downside of the design is that it doesn't feature bottom grills for dispensing heat to an external cooling pad. So if you are planning to use it with a cooling pad, you might want to reconsider.
These are just general assumptions and for the full review, which will be published later tonight, we measured the temperatures of the internal and external components when using the machine with its full capabilities.