ASUS GL552's battery life isn't all that great, just like every other gaming notebook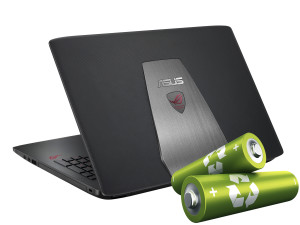 Well yes, we can't expect good battery performance from a gaming notebook, but the budget ROG GL552 shows sub par results in this department. Despite its not so power-hungry GPU (GeForce GTX 950M) and powerful Core i7 CPU, the numbers are a bit disturbing.
The notebook is equipped with 4-cell 3200 mAh battery and a Full HD IPS panel which will surely affect battery performance. However, results are in – just 186 minutes of web browsing, 193 minutes of video playback and only 56 minutes of gaming away from the AC charger. In order to be a fair assessment, all tests were performed under the same conditions (just like every device we test) – Wi-Fi turned on, Bluetooth is off, power saver is on and screen brightness is set to 120 cd/m2.
You will have to wait not more than a few days for the full review, so stay tuned as we have some more interesting insight about the GL552.