ASUS G551 vs ASUS GL552 : prices, specs and design – what are the differences?
Yesterday we showed you the differences between ASUS ROG G501 and ASUS ZenBook Pro UX501. Today we're going to compare two other laptop models by the Taiwanese company. They are called ASUS G551 and ASUS GL552. Of course, we're focusing on their new configurations based on NVIDIA GeForce GTX 950M / GTX 960M GPU.
Currently, we've found ASUS G551 (JW) on the Bulgarian, Slovakia and Czech Republic markets. The price tags oscillate from 1072 euro up to 1482 euro. The differences between the G551 models are the SSD capacity (128GB or 256GB) and the RAM (8GB or 16GB). However, 400 euro isn't a slight difference, so if you want a bigger SSD and more RAM you'll probably be better off waiting a week or two for these models to be available at lower prices.

When it comes to ASUS GL552, we've only found it in a Bulgarian store, but users have to wait until April 20, since the laptop is available for pre-order only. The price tag for the configuration with Intel Core i5-4200H is 818 euro, while the version with Intel Core i7-4720HQ costs 903 euro. Keep in mind that this is a sans-SSD configuration that only has 8GB of RAM. They have a 1TB hard drive, but a M.2 SATA 6Gbps slot as well, so you can add SSD.
ASUS G551 or ASUS GL552? Which is the better choice? The major difference between them is probably the GPU. At the moment, ASUS G551 offers NVIDIA GeForce GTX 960M (4GB DDR5), while available ASUS GL552 models have a GeForce GTX 950M (2GB DDR3).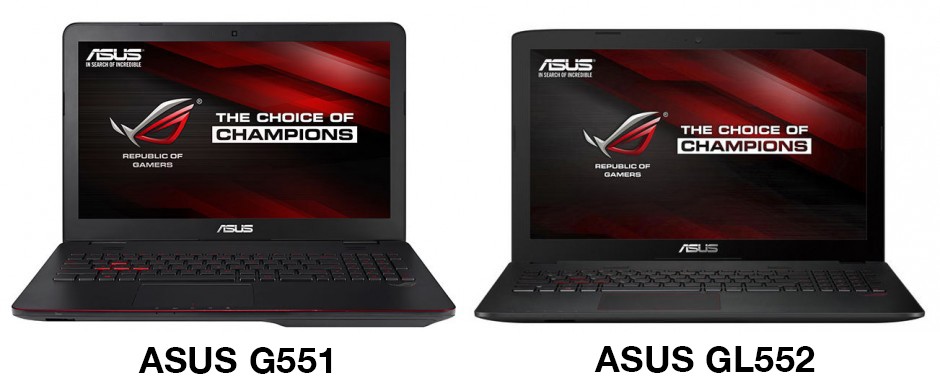 If we look at the configurations with 8GB RAM and Intel Core i7-4720HQ, the price difference between ASUS G551 and ASUS GL552 is around 170 EUR. But for the given price, you get 128GB SSD and a slightly more powerful GTX 960M (4GB DDR5) with the ASUS G551. Soon we will publish detailed results from the GTX 950M and GTX 960M and compare the performance between these two GPUs.

ASUS G551

ASUS GL552

CPU
Intel Core i7-4720HQ (4x 2.60-3.60 GHz)
Intel Core i5-4200H (4x 2.80-3.40 GHz) / i7-4720HQ (4x 2.60-3.60 GHz)
GPU
NVIDIA GeForce GTX960M (4GB DDR5)
NVIDIA GeForce GTX 950M (2GB DDR3)
RAM
8GB DDR3, 1600MHz
8GB DDR3, 1600MHz
Storage
1TB SATA (5400 rpm) 2.5 HDD
SATA 128GB MSATA HC SSD,
1TB SATA HDD (7200 rpm)
M.2 SATA 6Gbps slot
Display
15.6-inch, Full HD (1920×1080 pixels) IPS
15.6-inch Full HD (1920×1080 pixels), IPS matte
Connectivity
Integrated 802.11 b/g/n or 802.11a/b/g/n/ac, Bluetooth 4.0
Integrated 802.11ac or 802.11 b/g/n , Bluetooth 4.0
Features

1 x Microphone-in jack
1 x Headphone-out jack (Audio-in Combo)
3 x USB 3.0 port(s)
1 x RJ45 LAN Jack for LAN insert
1 x HDMI
1 x mini Display Port

1x Microphone-in/Headphone-out jack
1 x VGA port/Mini D-sub 15-pin for external monitor
2 x USB 3.0 port(s)
1 x USB 2.0 port(s)
1 x RJ45 LAN Jack for LAN insert
1 x HDMI
1X AC adapter plug

Battery
6Cells 5200 mAh 56 Whrs
4Cells 3200 mAh
Weight (with the battery)
2.40 kg (without battery), 2.70 kg (with battery)
2.60 kg (with battery)
Dimensions
383 x 255 x 28 ~31.5 mm
385 x 255 x 32.4 mm
Price

1072 EUR- 1482 EUR

818 EUR (i5-4200H) / 903 EUR (i7-4720HQ)
Source: Browswave