ASUS G502 / GL502 to be available with GTX 980M, the price is awesome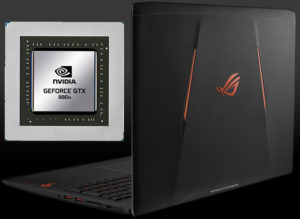 As it turns out, the upcoming gaming hit, ASUS G502VT will also ship in a version with the top tier NVIDIA GeForce GTX 980M (detailed specs). That's a big surprise given the thickness of the notebook – just 23.5 mm. Moreover, the price is much lower that the expected 2000 EUR. G502VT landed at Amazon with a "Bientôt disponible" tag (Available soon). And this is for the 980M version! The 970M variant is priced at 1499 EUR. Don't forget that ASUS has prepared configurations with gamer favorite i5-6300HQ, which will deliver almost the same gaming performance at an even lower price.
You can regularly check if the notebook has popped up in your country through this link:
http://amzn.to/1rcYo7C
As you know, we're already waiting for our unit, so can stay tuned for an in-depth review!
Check out where the GTX 980M stands in our Top Laptop Graphics Ranking:
http://laptopmedia.com/top-laptop-graphics-ranking/