ASUS finally replaces its Samsung IPS panels on ROG G551 notebooks with LG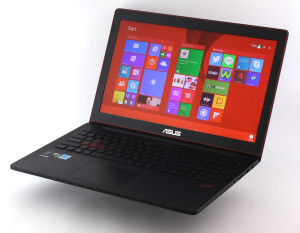 ASUS has been using the very same panels for its ROG machines for more than 3 years now. They had really good properties like large color gamut coverage, high maximum brightness and etc. ASUS has been shipping its notebooks with Samsung IPS panels with model number 156HL01-102 and the interesting thing is that even some of the N series notebooks featured this display.
However, this year ASUS finally moved away from this panel and it's actually a good thing. Why, you might ask? The 156HL01-102 panel had the so-called screen flickering (Pulse-width modulation) across almost all brightness levels with the only safe level being 100%. This could cause eye fatigue or eye strain and headaches the least. Now, we've got the refreshed G551J notebook with GeForce GTX 960M and our initial tests show that PWM is missing and it's perfectly safe for your eye's health. That's because ASUS has moved away from Samsung and is now relying on LG and more precisely – the unit is with a model number LP156WF4-SPH1. The results can be seen on the graph below.

Unfortunately, though, this comes at a price. LG's panel scores worse than the one from Samsung in terms of maximum brightness (334 cd/m2 vs 291 cd/m2), color gamut coverage (95% vs 84% of sRGB) and a tad worse when it comes to color reproduction (DeltaE = 1.15 vs 2.04).
We still have a lot more tests to show you in our full review of the model, so stay tuned. Oh, and, by the way, which of those panels would you prefer – the one with better image quality (Samsung's) or the one that's harmless to your eyes (LG's)? Let us know in the comment section below.