ASUS announces the world's first WQHD (2560×1440) monitor with 165Hz refresh rate – ROG Swift PG279Q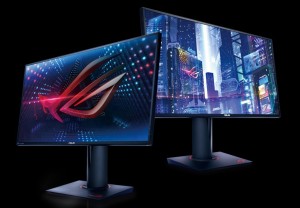 ASUS has just outed a really cool 27-inch WQHD monitor with a G-Sync-enabled chip inside for even smoother gameplay. However, the G-Sync feature isn't on the spotlight here, but the insanely fast refresh rate.
ROG Swift PG279Q is arguably the sweet spot for gaming right now. Most of the high-end or mid-range gaming rigs can run games on higher resolutions than FHD, yet UHD is still unreachable for most users. Also, the 1440p resolution is perfect for games like the ones that fall into the MOBA category, where also slower refresh rate is perfectly fine due to the slow-paced nature of those games. But for more fast-paced games, like first-person shooters, smoother gameplay is desirable and here's where this monitor shines. The maximum refresh rated of this monitor is 165Hz which is rather impressive given the resolution (WQHD) and the technology of the panel – IPS. Also, the IPS matrix scores incredibly low response time – 4ms, which is more than enough to satisfy every gamer's needs. Needless to say, the display features G-Sync technology.
The company also introduced its UHD counterpart – ROG Swift PG270Q, but unlike its sibling, this 27-inch beast can impress only with 4K (3840×2160) resolution. The G-Sync feature is also included and the response time is again 4ms. But as far as refresh rate is concerned, the IPS panel can go as fast as 60Hz. But that's, of course, if your PC can handle 4K gaming with 60 fps.
Both monitors also have exclusive features to offer like reduced blue light emissions and flicker-free panels for reduced fatigue after long gaming sessions. The last one will surely be checked if we can get our hands on one of those.