Apple M2 Pro and M2 Max are here – everything you need to know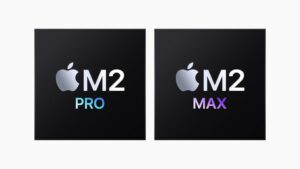 The second generation of Apple's own Pro and Max SoCs have made their way a few months after the regular M2 chip. Made for the MacBook Pro 14 and Pro 16, Apple promises an uptick in performance as well as once again putting them on the front in terms of power efficiency.
Both SoCs upscale the Avalanche/Blizzard architecture of the regular M2, providing more CPU and GPU cores, as well as a very high increase of Unified Memory.
Today we're giving you all the info you need to know about Apple's new M2 Pro and M2 Max SoCs.
Full Specs: Apple M2 Pro (10-core CPU) / Apple M2 Pro (12-core CPU) / Apple M2 Max

Apple M2 Pro
Starting off with the M2 Pro, it comes with either a 10-core or a 12-core CPU. All cores are single-threaded, similar to Intel's Efficiency cores. However, Apple still splits them into two pairs, with either 6 or 8 Performance cores and 4 Efficiency cores. Apple states it's up to 20% quicker than last year's 10-core M1 Pro. The M2 Pro GPU has 19 cores, which is up 3 extra cores from last year's M1 Pro GPU. The new one supposedly brings 30% more performance, so you get a nice increase in image processing. Apple also mentioned that the new GPU should supposedly enable "console-quality gaming". The SoC has a Unified Memory Architecture, which acts as RAM for both the CPU and GPU. You get up to 32GB as well as a bandwidth of up to 200GB/s.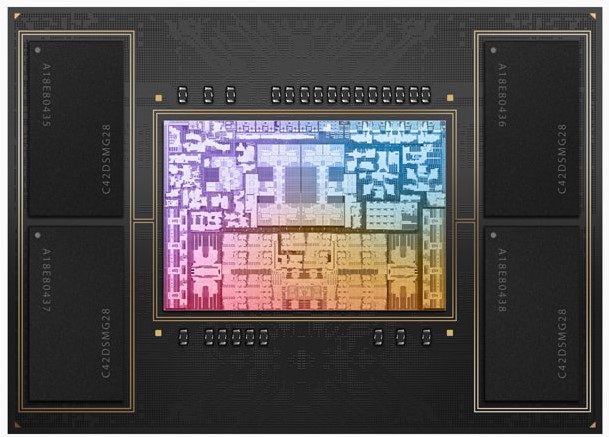 Apple also showed some performance charts, which aren't as ambiguous as you'd think. Apple compares a Core i9 CPU to an M1 Pro and an M2 Pro CPU, all inside a 16-inch MacBook Pro. In Photoshop, the M2 Pro is 80% quicker than the Core i9 (keep in mind that this is an older Core i9 that's nowhere close to today's 12th or 13th Gen Intel processors) and 40% quicker than last year's M1 Pro. Apple also compares the compiling performance in Xcode, where the M2 Pro is 25% quicker than the M1 Pro while outclassing the Core i9 by 2.5 times.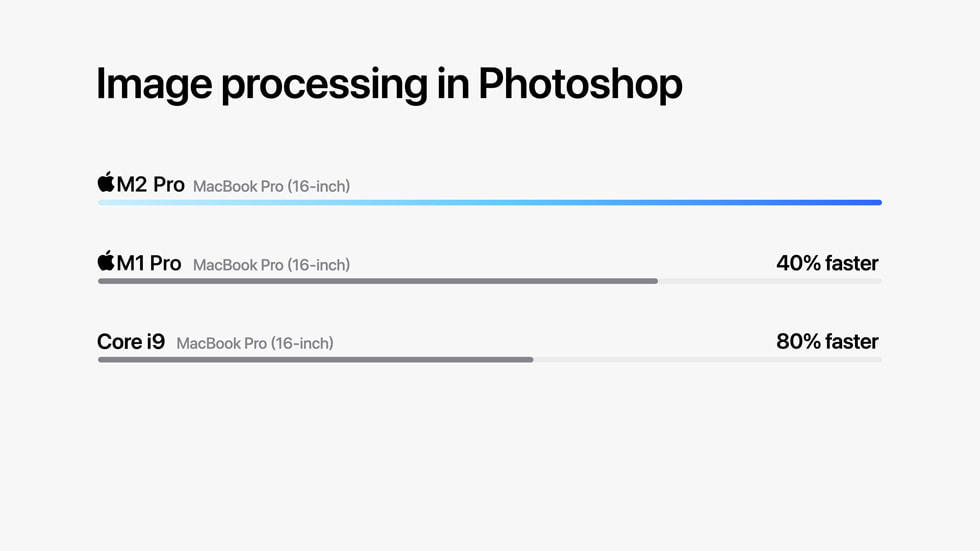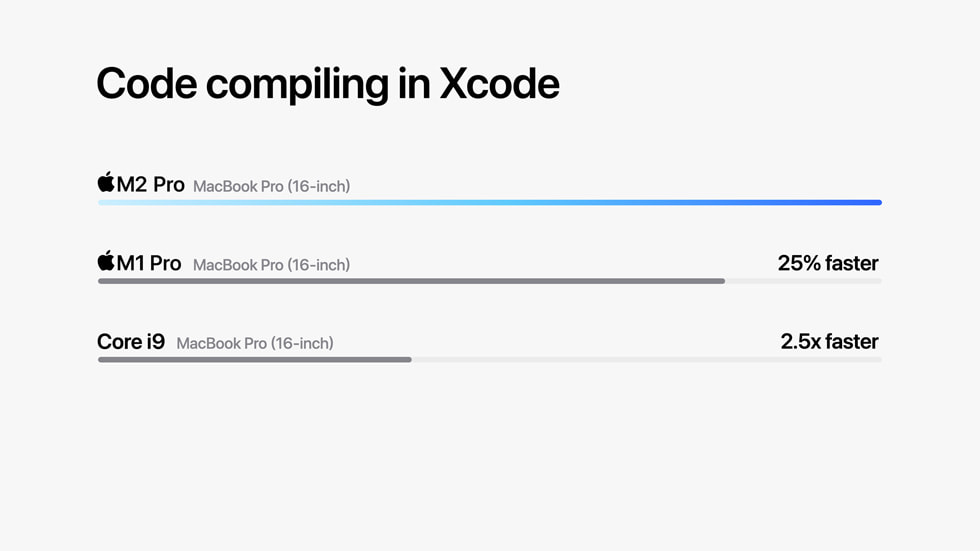 Apple M2 Max
The M2 Max offers the same 12-core CPU, with 8 P-cores and 4 E-cores. The GPU is much more powerful, doubling the GPU cores from 19 to 38. Apple also doubles the UMA bandwidth, to 400GB/s, while you can get up to 96GB of total memory. The M2 Max GPU comes with around 30% more power when compared to the M1 Max's GPU. The chip is bred for performance and is able to tackle complex visual effects and machine learning.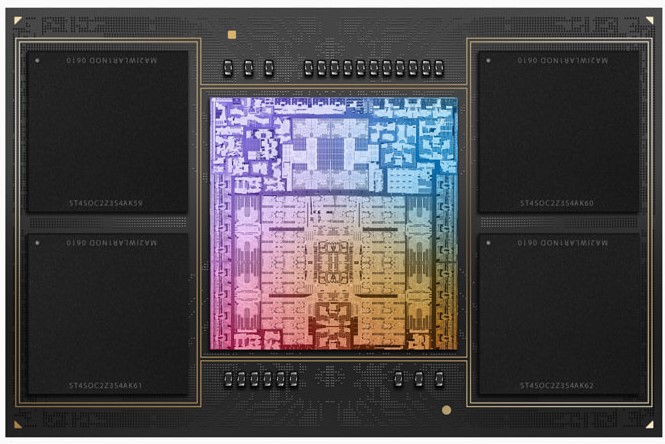 Both the M2 Pro and M2 Max come with a new, second-gen Neural Engine, which comes with 16 cores and should be up to 40% faster if we're to trust Apple's words. There's hardware encoding on the SoC itself, with H.264, HEVC, and ProRes codecs. The M2 Max dials it to 11, offering two video encoders and two ProRes encoders, which would double the encoding performance of the M2 Pro.
The M2 Pro will be available inside the two new MacBook Pro 14 and Pro 16, as well as the new Mac Mini. The M2 Max will be available only in MacBook Pro laptops.

All laptops with the Apple M2 Pro (10-core):
All laptops with the Apple M2 Pro (12-core):
All laptops with the Apple M2 Max: