Apple iPad Pro lands on the European market at an expectedly high price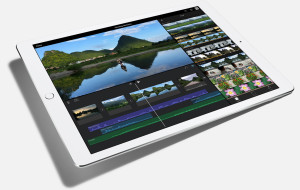 Last month Apple officially revealed the 12.9-inch iPad Pro – a device that features top-tier specs. The tablet can now be found on the european market, as it is already available in a Slovak online store. The price is high, as expected – €919 for the 32GB version. For instance, the device's asking price is $799 in the USA.
However, the capabilities of the tablet are very impressive. Aside from the already mentioned 12.9-inch display, which resolution is 2048 x 2732, the device boasts Apple's A9X SoC with 4GB of RAM, 8MP camera, four loudspeakers, support for Apple Pencil, fingerprint scanner and a battery that should provide over 10 hours of onscreen time. All of this is packed in a thin (only 6.9 mm) and stylish body with premium build quality.
Source: Browswave.com