Another great news for the UHD version of Toshiba Satellite Radius 12 (PWM report)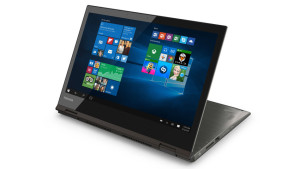 The fancy ultrabook from Toshiba came in our office about two weeks ago and we can't stop staring at the gorgeous 4K screen. You know when sometimes technology hasn't quite caught up with the demands on the market and such devices appear to be gimmicky – it's the first 12-inch UHD screen on the market after all. Luckily, this isn't the case here and instead, the notebook offers superb image quality that can also be used for color-sensitive work on-the-go.
This great device can be found at Amazon.com.

Moreover, the notebook's screen can be considered user-friendly since it doesn't use PWM from 100 cd/m2 screen brightness and above. And to be honest, anything under 140 cd/m2 is somewhat unusable in bright rooms or during the day in general. You will turn down the brightness below 100 cd/m2 only if you are in a really dark room and even then, the frequency of the emitted light is pretty high – 25.3 kHz – and will cause eye fatigue only to users with really sensitive eyes. So as higher the frequency gets, the better, but you probably already know that if you read our article regarding the so-called screen flickering issue. We've also set up a ranking table for notebooks that we've tested regarding PWM.