Alienware reveals two curved 34-inch monitors with G-Sync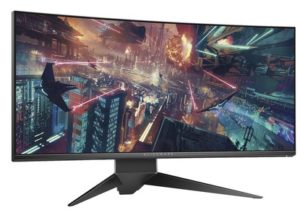 It seems that we are getting good news today not only from Acer but also from other gaming-oriented brands. What we have in mind is Alienware and its announcement of two new cool monitors for all you gaming geeks out there. The products in question come with a 34-inch screen diagonal but there is a difference in their resolution. Both monitors are curved and boast 4ms of response time and G-Sync support, but there are some differences, too.
If you happen to show interest, you could browse through all currently available Alienware products here: http://amzn.to/2wnyOAZ
Let's start with the more high-end model – AW3418DW. It boasts a resolution of 3440 x 1440 pixels (WQHD) and a refresh rate of 120 Hz, making it an incredibly suitable companion to computers with enough horsepower to drive the latest and greatest games with more than decent frame rates. It is expected to be available from today in the USA with a starting price of $1,499.
On the other hand, there is the more affordable option – AW3418HW. Its resolution is WFHD (2560 x 1080p) and that's the first difference. Another aspect in which the two monitors are dissimilar is the refresh rate. The more affordable option offers 160 Hz refresh rate which is more than decent. This bad boy is also expected to be available starting today in the US and its lowest price will be $1,199.