Air Mouse Keyboard Backlit Flying Squirrels I8 – universal remote control pad and keyboard for only $6.49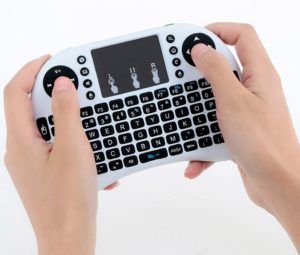 Another day, another cheap and cheerful deal. Today's choice is something that many people may find useful. Furthermore, this little fellow costs pocket money – right now you can purchase it for only $6.49.
We are talking about a small keyboard with a touchpad which can be wirelessly connected to a number of devices that you have at home – Smart TVs, Android TV boxes, laptops, desktop PCs and even to your X-BOX. There is just a USB receiver that has to be plugged in the device you wish to control in order to make use of the 2.4 GHz wireless connection.
If you happen to show interest in this device, you could check its current availability or purchase HERE.
We must also note that this remote control is compatible with a good number of operating systems – Android, Linux, Mac OS X, and Windows. Additionally, you may wish to know that the operating range is 10 meters – more than enough for most apartments. Another noteworthy detail is the fact that the remote comes with a rechargeable battery.
What's even cooler is the fact that you have a backlight which allows you to choose between three colors – red, green and blue.