ADATA reveals new flash drives – UV230 and UV330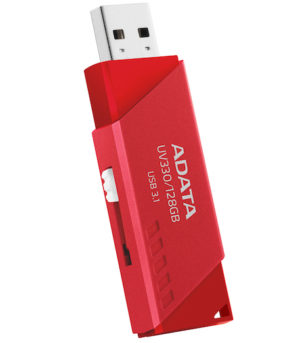 Another day, another good news from the renowned manufacturer ADATA. This time we are dealing with two new flash drives also known by the names of UV230 and UV330. These little gadgets can be extremely useful to those of you who are on a budget but still need such storage devices.
Check all currently available ADATA products here: Buy from Amazon.com
The UV230 makes use of the USB 2.0 standard and is offered with capacities up to 64 GB. Indeed, the USB 2.0 speeds are not the most contemporary and hence the more affordable price – most people won't have problems with having to wait a tad longer. On the other hand, there is the UV330 which is faster, employing the USB 3.1 standard. That's not all though, this model also has higher capacities, the largest being 128 GB. Additionally, the two flash drive models do not use caps, instead the connector slides in and out. This provides convenience as you will not have to worry about losing a cap. You may also wish to know that the UV230 will be offered in black and blue color options, whereas the UV330 comes in black and red. The drives can also be attached to straps for ease of use.