ADATA reveals D8000L – portable battery and LED light source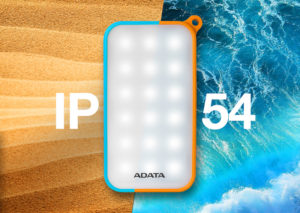 What is up everybody? We are excited to present to your attention a new ADATA product – the D8000L. This is a power bank whose top surface is covered by LEDs which can be quite useful in many situations. As you may guess, the D8000L has a capacity of 8000 mAh – plenty for most users.
If you wish, you could browse through all currently available ADATA products here: http://amzn.to/2qIlELC
We must note that this battery stands out from the crowd because the light emitted from an entire surface of LED bulbs is much more than the one by some other portable batteries which deliver only a small light beam. You may also wish to know that the LEDs are rated at 200 lumens and that a fully charged D8000L can provide you with up to 17 hours of illumination. Remarkable, indeed.
Another notable feature of this powerbank is its IEC IP54 certificate – it is dust and waterproof, making it a really convenient companion for people who lead a very active life and go to extreme environments. Furthermore, the back is grooved which allows us to make use of anything we have in our pockets as impromptu kickstands when we want to illuminate an object.
Last but not least, we should note that D8000L uses two USB ports with a total output of 2.1A. This allows users to charge up to two devices simultaneously. The product also ships with a 1-year warranty.