Acer's TravelMate X349 has killer battery life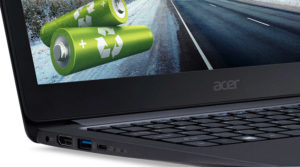 One more month until the TravelMate X349 hits the stores and we have some really good news about the battery life. The notebook's portable, thin and light chassis seems to hold just enough juice to power the whole device for almost a full workday of mixed usage.
You can regularly check here when the device hits the market: http://amzn.to/2bC37Zc
The unit we are currently testing has the Core i7-6500U on board and a 14-inch Full HD IPS matte display and a 48.9Wh battery to support the whole thing. So the ultrabook was able to score some impressive battery runtimes when it comes to browsing and way above average video playback. Of course, the tests were run under the same conditions as always – Windows battery saving feature turned on, Wi-Fi switched on all the time and screen brightness set to 120 cd/m2. So the system endured 619 minutes (10 hours and 19 minutes) of surfing the web and 441 minutes (7 hours 21 minutes) of playing a video. With these results, the TravelMate X349 easily overtakes some 13-inch devices with Core m processors. Impressive, right?
Stay tuned for the upcoming full review.