Acer's Swift 7's screen uses high-frequency PWM to regulate brightness from 0 to 60%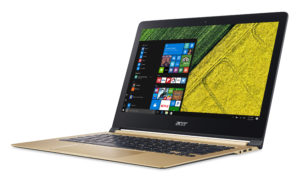 As some of you may have already guessed, the Acer Swift 7's panel inherits all of the good and bad sides of the CHI MEI CMN1367, also found in HP's ultra-thin Spectre 13. One of the drawbacks is the presence of PWM but that isn't as bad as it sounds.
The notebook isn't out yet but you can check here when it does: http://amzn.to/2dBhlxV
Just like the Spectre 13, the Acer Swift 7's panel flickers only from 0 to 60% screen brightness, which is around 95 cd/m2. This is a fairly low brightness, which can probably be used only in pretty dark environments. Even then, the frequency of the emitted light is pretty high (25 kHz) and will affect only users with really sensitive eyes. You can see the graph below but you won't find any difference between this one and the Spectre's.