Acer's Nitro and Lenovo's ThinkPad also jump on the GeForce 900M bandwagon, but with the low-class 940M (for now)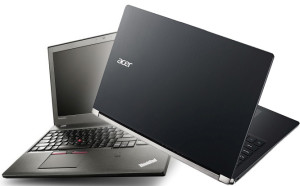 We're hundred percent sure that Acer's Nitro line is going to adopt GeForce GTX 960M/965M, but it seems that the first models will be equipped with the low-class 940M. The same goes to ThinkPad's T550, although the latter is a business notebook and it's pretty normal to sport not so powerful GPU.
We have spotted Lenovo ThinkPad T550 with NVIDIA GeForce GT 940M in Slovakia with the price of 1500 EUR (1250 EUR without VAT). The other laptop specifications include Intel Core i5-5200U CPU (Broadwell), 8GB DDR3L RAM, 256GB Solid State Drive and 15.6-inch Full HD display.
Acer Aspire Nitro with GT 940M is also on the market now, but only in Hungary for now and for more than two times lower price, when compared to the Lenovo's T550. It's listed as "coming" and it features the same Core i5-5200U processor, 4GB RAM, 15.6-inch HD display and a 1TB HDD. The price is 703 EUR and there is also a configuration with 8GB RAM and FHD IPS display, which price is 80 EUR higher.
We have internal sources in Acer, who told us that there are coming some Nitro configurations with NVIDIA GeForce GTX 960M around the end of March. At this point, we can't share more information regarding these laptops, but we'll keep you informed of the situation.