Acer's new ultimate gaming beast is the updated Predator 21X for $8999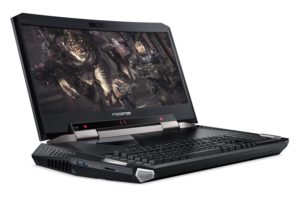 $8999, man. $8999! That's nine grand for a notebook but what is so special about it? To begin with, that's the first laptop with curved display in the world. And it's not a small one – you get 21 curved inches of IPS panel with 2560 x 1080p resolution and NVIDIA G-SYNC support. Gaming will surely be fun on this bad boy.
If you want to check other available Acer Predator models, you can use this link: http://amzn.to/2iCXzSZ
It is understandable that most of you will be interested in this device's specs so let's have a quick look at them. CPU-wise, we are dealing with an Intel Core i7-7820HK and as far as graphics is concerned, you get a configuration of dual GTX 1080 in SLI. A great combo, indeed. It is also complemented by up to 64GB of RAM (DDR4) and you can pick up to 4 SSDs with 512GB in RAID0 array (plus there is an opportunity to add an HDD to this setup).
You are right, this big boy will demand a big battery and that's why Acer has put an 88Wh unit. As you may see from the pictures, this Predator features an incredibly aggressive design language – a mechanical keyboard, big vents on the sides and back, huge hinge and the 21″ curved display, of course. Nonetheless, the engineers have managed to incorporate the needed amount of connectivity options – HDMI 2.0, 2x DisplayPorts (with G-Sync support), SD card reader, USB 3.1 Type-C (Thunderbolt 3 support), 3x USB 3.0 plus a USB 3.0 port with always-on charging.