Acer's budget solution, the Aspire E 15 (E5-575G) has a flicker-free display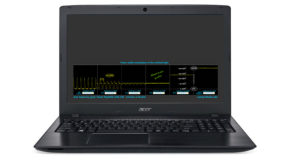 Another day, another great news for those of you seeking out budget-friendly devices that don't have PWM for regulating screen brightness. The last notebook we've tested is the Acer Aspire E 15 (E5-575G) and it turns out the display doesn't use PWM for the most part.
You can find some of the configurations and their prices here: http://amzn.to/2cb8VsT
Screen flickering was detected only below 17% brightness or 55 cd/m2 and we are pretty sure you won't be using it under 80-90 cd/m2 anyway. You will have to be in a pitch-black room to lower the brightness that much. Even then, the frequency of the emitted light is 25.8 kHz so only users with really sensitive eyes will feel the negative impact. We still recommend that you don't lower the luminance below 17%, though.