Acer TravelMate P658's battery life blows pretty much every 15-inch laptop out of the water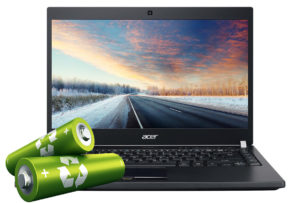 We have to admit – when we started testing the notebook and saw the battery capacity of 55Wh, which isn't small by any means, we were a bit skeptical that the machine will provide exceptionally long runtimes away from the charger. We were expecting higher than usual results but we were pleasantly surprised when we found out how durable Acer's top-shelf 15-inch business notebook is.
The expected release of the notebook was expected sometime during April, but it appears that the shipment is off schedule for now. Here's a link where you can check when it comes out: http://amzn.to/1qfKnWa
The TravelMate P658 scored 522 minutes (8 hours and 42 minutes) of Wi-Fi browsing and the whopping 452 minutes (7 hours and 32 minutes) of video playback. This is downright insane given the fact that it surpasses most ultrabooks we've tested like the Lenovo Yoga 900S, ThinkPad X1 Yoga and even catches up with Dell's XPS 13. Well, it seems that the 15.6-inch IPS panel and the Core i7-6500U aren't draining the battery as much as we thought they would making it the most durable 15-inch notebook we've tested so far. Its close competition is coming from the lower-end segment of the market so we can easily say the TravelMate P658 is best in class when it comes to battery performance.
We should note, however, that all tests were conducted in "controlled" environment and can't serve as a comparison with other results on the web. All devices we test use the following settings: power saver turned on, screen brightness set to 120 cd/m2 and Wi-Fi turned on at all times.