Acer TravelMate P4 TMP449 ranked in the top 20 in our Top 50 Laptops with the best Battery Life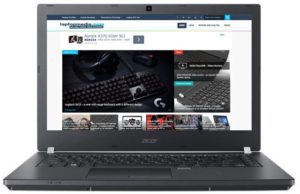 Acer TravelMate P4 TMP449 is a budget business solution that we recently reviewed and while we are not particularly happy with the screen quality, battery life is where this little assistant shines. In this article, we want to share with you the results of the battery tests we have conducted – web browsing and video playback.
We are dedicating a whole article on this issue because TravelMate P4 TMP449 ranked fairly high – in the top 20 (19th place to be precise) in our Top 50 Laptops with the best Battery Life rank list which means great battery life for such a budget device.
If you happen to show interest in Dell Inspiron 7567, you can check the available configurations here: http://amzn.to/2pWAvBd
All the tests on all the different notebooks conducted by LaptopMedia were performed using the same settings to ensure a fair comparison. TravelMate P4 wasn't an exception – Wi – Fi turned on and the screen brightness set to 120 cd/m2. We think that the results are so high because of the 14-inch 1366 x 768p screen and Intel Core i5-7200U ULV chip and of course good optimization done by Acer. The battery that this little bad boy runs on is a 48.9 Wh one with a model number AC14B3K.
Finally, let's say what the actual results are. When browsing the web you can get up to 536 minutes of battery life which almost 9 hours. The battery can also assure you more than 10 hours of video playback or 615 minutes to be precise. In other words, you will most probably get trough a whole day without touching the charger.
Here is a photo of the battery itself: