Acer Predator Triton 500 just got a 300 Hz IPS screen!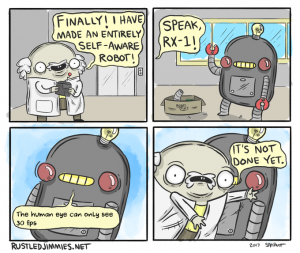 This is going out of hand. OK, it's clear that 30, 60 and 75 FPS are not enough for gamers while 144 Hz sounds great. But what about the 240 Hz Alienware and ASUS ROG laptops?
Well, the folks at Acer don't feel happy being below their competitors so they raise the bar even more with the updated version of Triton 500 which now has …300 Hz IPS display panel.
Here's something interesting:
"The U.S. Air Force, in testing their pilots for visual response time, used a simple test to see if the pilots could distinguish small changes in light. In their experiment a picture of an aircraft was flashed on a screen in a dark room at 1/220th of a second. Pilots were consistently able to "see" the afterimage as well as identify the aircraft. This simple and specific situation not only proves the ability to percieve 1 image within 1/220 of a second, but the ability to interpret higher FPS."
So yes, the human eye CAN see a lot more than 144 FPS but the average Joe will not tell the difference between 144, 240 and 300 Hz display.
Anyway, with or without 300 Hz screen, Acer Predator 500 is a pretty good notebook and got our Editor's choice award. Read more here:
https://laptopmedia.com/review/acer-predator-triton-500-review-thin-and-light-rtx-2080-max-q-beast/
AUO B156HAN08.2 (AUO82ED)
AUO B156HAN12.0 (AUO7A8C)
HDD/SSD
up to 2000GB SSD + up to 500GB HDD
M.2 Slot
2x 2280 NVMe M.2 slot (RAID 0) See photo
OS
Windows 10 Home, Windows 10 Pro
Battery
84Wh, 4-cell, 84Wh
Dimensions
359 x 255 x 17.8 mm (14.13" x 10.04" x 0.70")
3x USB Type-A
3.2 Gen 1 (5 Gbps)
1x USB Type-C
Thunderbolt 3, DisplayPort, HDMI
Audio jack
2x audio jacks
Backlit keyboard
optional