Acer Predator Thronos Air is a gaming chair* priced at $13999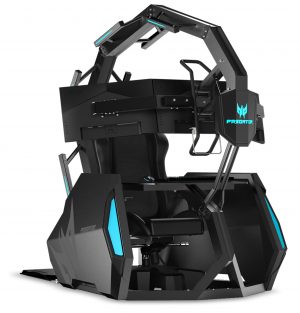 *It's not a chair
Yes, they call it "a chair" because there isn't a word for a small gaming world with a modular desk, three monitors, adjustable seat (130 degrees inside the cabin and 180 degrees outside the cabin), cable management system, and a massage function.
We'd consider living in that thing at least for several weeks but a human can survive just 3 days without water… Oh, it has a cup/bottle holder. Okay…
There are also a headset holder, a USB hub, and a camera.
The gaming cave will cost $13999 without the three monitors on the photos.
You can regularly check for availability through this link: Buy from Amazon.com (#CommissionsEarned)