Acer Nitro 5 is the next entry-level gaming notebook – featuring GeForce 1050 Ti
2017 is the year of Kaby Lake and NVIDIA 10 series equipped gaming notebooks and most manufacturers have already updated their lineups but there are still some new models that yet to come. Specifically, in the entry-level segment, the competition is tough – manufacturers are trying to provide as much bang for the buck at a low price point which leads them to cut corners here and there that sometimes results in a rather bad product. As of today, we can say that the king of budget gaming is the Lenovo Legion Y520 but it seems that Acer stepping in.
You can check out all available Acer notebooks over here: http://amzn.to/2qb0wxg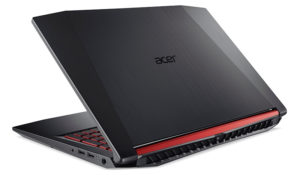 Acer presents us with the Nitro 5 – a budget gaming notebook featuring hardware that is just enough to run your favorite games. What is interesting is that the notebook will come in two versions – one with Intel+NVIDA hardware and the other with AMD components. Unfortunately, the AMD components will not include the new Ryzen CPUs or Vega graphics cards so most likely users will opt for the Intel version. A quick reminder – ASUS is probably going to be the first OEM to provide us with a Ryzen-powered gaming notebook.
Let's run trough the specs. You get a 7th generation i5 or i7 processor which is hardly a surprise, a NVIDIA GTX 1050 Ti graphics card, up to 32GB of DDR4 RAM, up to 512GB os SSD and 2TB of HDD storage and a 15.6-inch Full HD (1920 x 1080p) IPS display. And if you are wondering about the AMD version – the CPU will be either FX, A10, or A12 APU and the graphics card a Radeon RX 550. Nothing too fancy but both versions will fulfill the needs of the mainstream audience.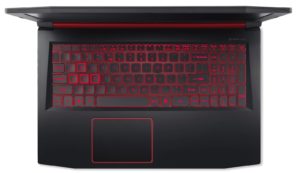 You also get all the essential connectivity options with the Acer Nitro 5. A single USB 3.1 (Gen 1) Type-C port, one USB 3.0 port (with power-off charging enabled), two regular USB 2.0 ports and a single HDMI are available for connecting peripherals, while you can connect to the world via gigabit Ethernet, Wi-Fi 802.11AC and Bluetooth of course.
Acer Nitro 5 stands out from the crowd with its design which shares the aggressive look of Acer's high-end Predator laptops. You get a bright-red keyboard illumination and big exhaust vents on the rear side.
A specific price is still unknown though we suggest that it will be somewhere under $1000 for the base model. Meanwhile, you can check all available Acer notebooks over here: http://amzn.to/2qb0wxg