Acer Liquid X2 sports a huge battery, 3 SIM card slots and vanilla Android experience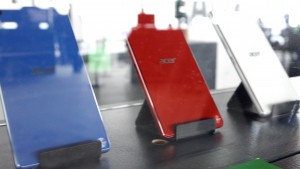 About a month ago Acer unveiled its new Acer Liquid X2 smartphone in New York but just like the Predator series there wasn't any sufficient information about the phone. Here at Computex 2015 the company shared some interesting insights and the handset was on display for us to try it out.
In terms of design, the smartphone somehow resembles the Xperia Z series from Sony, but you will see that this is far from the truth the second you hold the phone. The back of the phone is plastic (instead of glass) and the sides are not aluminum but plastic. Let's not get too picky, though, as the Liquid X2 is more of a mid-ranger and yet delivers a lot of useful features. For starters, the smartphone sports 4000 mAh battery, 3 SIM card slots, MediaTek 64-bit octa-core CPU (which Acer doesn't say anything about), and users that are fans of stock Android will be happy to know that Acer left the OS stripped down with only a few customized apps.
However, the screen measures 5.5 inches with an HD (720p) resolution which isn't cutting edge by any means, but this will surely affect battery performance in a good way. Judging by the specs, it will be most suitable for business and frequent travelers. On the other hand, the resolution of both cameras suggests otherwise. The front-facing one has a resolution of 13MP and the back one has the same amount of pixels. Pretty decent for a mid-ranger, right?