Acer expands its mid-range gaming lineup with the Helios 300 notebooks
Today is Acer's [email protected] global press conference in New York and we wanted to share something that grabbed our attention. Apparently, Acer is expanding its mid-range gaming lineup with two new models that start a new series called Helios 300. These laptops will provide good gaming performance at a reasonable price.
You can check all available Acer notebooks over here: http://amzn.to/2qb0wxg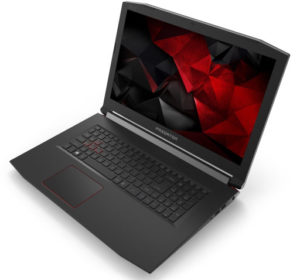 Helios 300 will try to offer as many features and variants as you can wish. You will be able to get it with a Full HD (1920 x 1080p) IPS 15.6-inch display but if you want it bigger you always have the 17.3-inch model. Helios 300 will also feature a Predator-like design with matte black finish and red elements that will spice things up.
When it comes to performance you can choose from an Intel Core i7-7700HQ or i5-7300HQ if you don't need that extra power. The graphics card inside is either a GTX 1050 Ti or 1060 both of which will be overclockable. You get 16GB of DDR4 RAM which can be expanded up to 32GB. You also get a combination of HDD and SSD so you can store all your valuable data and still get high read/write speeds.
Helios 300 notebooks are equipped with all the necessary connectivity options – a single USB Type-C, one USB 3.0 with power-off USB charging, two regular USB 2.0 ports, and an HDMI. Wi-Fi ac and Gigabit Ethernet are present.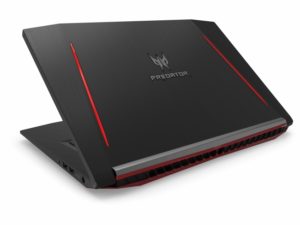 The gaming duo features some great features like Dolby Audio Premium and Acer TrueHarmony to deliver crisp and clear audio for those movies nights. They are Skype for Business certified so you can use them as your business assistant as well. Let's not forget that they are gaming oriented – that's why they feature a dual fan system with an AeroBlade 3D Fan that has ultra-thin metal blades to keep the notebook cool even in the most intense gaming moments. The PredatorSense software gives you detailed information about the system and lets you easily overclock the device to unleash its full potential.
And lastly, let us say a few words about the pricing and availability. The 15.6-inch model will be available in the summer (July-August depending on your region) and will have a starting price point of $1299. We can't say much about the 17.3-inch model but it will probably be available a month or two later with a slightly higher price.
Meanwhile, you can check all available Acer  notebooks over here: http://amzn.to/2qb0wxg