Acer at IFA 2016 – new ultrathin Swift notebooks with Kaby Lake processors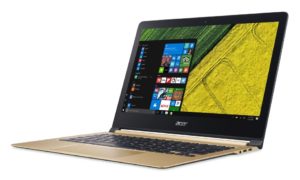 IFA 2016 is here and we are eager to share with you as much tech information as possible. This publication is devoted to Acer's announcement of four new ultrathin notebooks – Swift 1, Swift 3, Swift 5 and Swift 7. As you may guess, the higher the number – the higher the class of the particular laptop.
Following this logic, we begin with the flagship model – Swift 7. It's really important to note that its all-aluminum chassis is only 1 cm, and its weight – merely 1.1 kg. This device features a 13.3-inch Full HD IPS display (1920×1080 p). According to the manufacturer, the battery can last for up to nine hours with the Core i5-7300U CPU, 256 GB SSD, and up to 8 GB of RAM. As far as connectivity is concerned, the device offers two USB 3.1 Type-C ports and 2T2R 802.11ac with MU-MIMO. It is expected to sell for $999 and be available this October.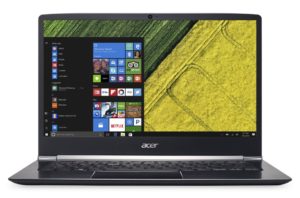 Next comes the Swift 5 and it is a bit thicker (14.58 mm) and heavier (1.36 kg) than Swift 7. However, the additional size and weight bring some merits such as longer battery life. According to Acer, this device can endure for up to 13 hours of use. In the fashion of the premium model, Swift 5 will also feature a Kaby Lake processor, up to 8 GB of RAM, and either 256 GB or 512 GB of PCIe or SATA SSDs. Additionally, this laptop will make you happy with a USB 3.1 Type-C, as well as touch display configurations, and a fingerprint reader option. It's expected to sell for $749, and to be launched in November.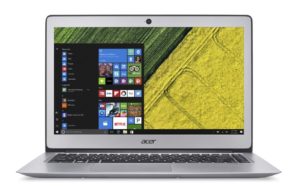 Acer Swift 3 is another more affordable option from this series. As you may guess, it is a bit thicker and heavier – 17.95 mm and 1.5 kg, to be more precise. However, Swift 3 uses a 14-inch form factor and you can choose between a 720p or 1080p IPS display. The notebook comes with Skylake/Kaby Lake CPUs and 2T2R 802.11ac with MU-MIMO. What is more peculiar about this device is that you can choose an optional keyboard backlighting. It's expected to be released in October with a starting price of $499.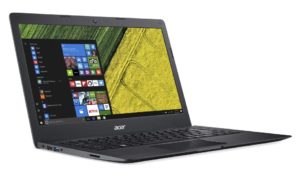 We conclude this short article with the budget solution in this lineup – Swift 1. This one will be sold with Pentium/Celeron processors and  32/64/128 GB eMMC options. Additionally, Swift 1 features a 14-inch 720 p display. What is remarkable, however, is the fact that it weighs only 1.6 kg and can provide up to 12 hours of battery life! You might also want to know that it will be available in November, and the starting price is $249.
If you are interested, you can browse through the currently available Acer laptops here: http://amzn.to/2cenpw7