Acer Aspire V15's (V3-574G) BluelightShield display technology might come in handy, but fails to deliver some other important features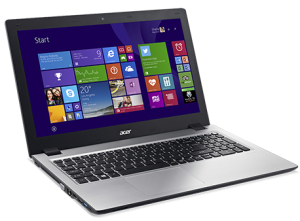 During the next@acer event a few months back in New York, the company unveiled a big range of notebooks, convertibles, and tablets with the so-called BluelightShield technology that aims to protect your vision. Basically, the backlight of the display (WLED in our case) emits blue light that's linked to damaging the eye's macula and Acer's engineers have found a way to filter the harmful blue light.
However, despite this awesome feature that will protect your eyes, in the long run, Aspire V15's display lacks some very extensive properties. For starters, the panel's maximum brightness is 240 cd/m2. This is far from enough when working outdoors or in really bright rooms. Luckily, the display features a non-reflective matte finish that should make the viewing experience a bit better. The color accuracy is another thing that we weren't happy with. Aspire V15's panel can reproduce significantly fewer colors than the ones in the default sRGB color gamut and thus leading to inaccurate color reproduction. This means that some colors found in the Web or in HDTV will be missing. And finally, the new V15's display has a PWM (Pulse-width modulation) light or in other words – screen flickering. This will put a strain on your eyes, but not as much because the frequency of the emitted light is around 25 kHz and it's considered less harmful.

More interesting details about the display and the notebook as a whole can be found in our upcoming review. Stay tuned.