Acer Aspire Switch Alpha 12's tiny battery could suprise you with almost a full day of battery life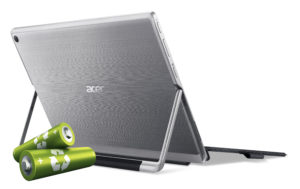 With all that hardware crammed inside Acer's liquid-cooled hybrid solution, we can't really expect over the top battery performance. Yet, we are surprised with what the tablet achieved in our battery tests, especially in the browsing one.
The device isn't out on the market yet but you can check when it becomes available here: http://amzn.to/1VaoPCr
Anyway, the battery capacity is 37Wh (4870 mAh), which, as we already said, isn't much compared to most notebooks but given the small screen size and the liquid-cooled ULV (ultra-low voltage) CPU, the unit seems to hold up pretty well. In our browsing test, the device scored the whopping 523 minutes (8 hours and 43 minutes) but on the video playback test, the notebook endured only 341 minutes (5 hours and 41 minutes), which is still enough to watch a few episodes of your favorite TV show or a full movie.
Keep in mind, though, that the tests were run under the same conditions as always – with Wi-Fi turned on at all times, battery saving feature turned on and screen brightness set to 120 cd/m2. Stay tuned for the full review as the device holds a few more surprises.