Acer Aspire S7 (Broadwell) video review – same stylish body with the latest Intel CPUs and QHD screen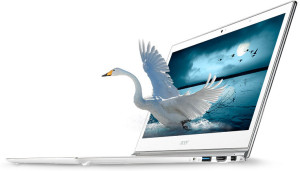 Yesterday we showed you what you can find inside the Acer Aspire S7 (Broadwell) and also, how you can upgrade the laptop. In addition, we're also ready with its video review, so you can get acquainted with it below. Aspire S7 has some very intriguing features which distinguish it from other machines.
The Gorilla Glass protection doesn't stop with the multi-touch screen. The front panel is protected as well. If you think your laptop is not heavy, let's compare it to the Aspire S7. The Acer model is only 12.9 mm thick and weighs 1.3 kg. The new version comes with Intel Broadwell processors. This means that we can expect higher GPU performance and long battery life. Acer claims that the battery will manage to stay on for 8.5 hours. We'll be sure to check that out.
We have an inside look and a video review, so you can expect our detailed review very soon.