Acer announced the new Predator 15 (G9-593) and Predator 17 (G9-793) with GeForce GTX 1060 / 1070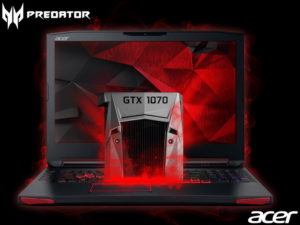 Acer refreshed their renowned gaming "beasts" by giving them new graphics cards and thus turning them into the new Predator 15 (G9-593) and Predator 17 (G9-793). The GPUs in question are NVIDIA GeForce GTX 1060 and GeForce GTX 1070, respectively – so one can only imagine the awesomeness of this combination. In this way, Acer joins the group of manufacturers that have decided to benefit from the new Pascal GPUs.
Along with the refreshed graphics cards, there are other noteworthy improvements. The new Predators now support HDMI 2.0 as well as "NVIDIA Surround" feature for a better gaming experience while using several displays. Additionally, the two new laptops can connect up to three 4K displays via G-Sync. We must also note that there has been an improvement in the cooling design, which now ensures up to 15% better airflow inside the chassis and reduced noise levels.
The two new Predator notebooks are expected to appear on the market in September at a starting price of 1800 EUR ($2030).
You can browse through all currently available Acer Predator products here: http://amzn.to/2bvtgfk
Additionally, you can have a look at two publications dedicated to GeForce GTX 1070 here:
GeForce GTX 1070 (Laptop) vs 970M, 980M, GTX 980 (Laptop) and GTX 1070 (Desktop) – benchmarks and gaming tests.
Gaming benchmarks of the mobile GeForce GTX 1070 give us hope of 4K gaming laptops.