A few more laptops are added to our M.2 compatibility list including the Lenovo ThinkPad P70 and ASUS ZenBook UX303UB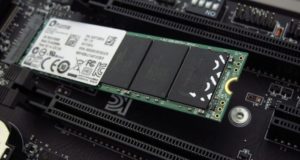 It's been a while since we've updated you on the additions to the M.2 SSD compatibility list but this time, we have a boatload of interesting laptops that have been added to the list. Some of them appeared to have missed the M.2 craze, which is rather surprising and unfortunate for a high-end model, but others made a pleasant surprise by offering the new standard for half the price.
Let's start with the Dell Latitude E5570 – an upper mid-range notebook, direct successor to the E5550 with refreshed hardware adding an M.2 SSD option to the list, which wasn't available in the previous model. However, you will have to sacrifice the standard 2.5-inch drive for the M.2 2280 SSD, which should support either M.2 SATA, PCIe, and NVMe sticks as well. You will need to do some tweaking, though. Next on the list is the ASUS X556 and X550VX both of which are high-performance laptops with low cost and naturally don't support the latest M.2 SSDs. But the ASUS ZenBook UX303UB, however, surprised us by not having the M.2 slot. The previous model supported the fast SSD standard but the refreshed model sports only one 2.5-inch SATA drive, usually an SSD.
Moving on to the exceptional ThinkPad P70 workstation from Lenovo. As a high-end professional laptop, we can't really expect anything less than a number of supported M.2 PCIe NVMe devices and, of course, the laptop delivers. It has two free M.2 slots supporting RAID 0 and RAID 1 configurations but that depends on your model. Most of them should, though. And finally the big surprise – the Acer Aspire E15 E5-575G. It's a notebook located in the lower-end of the market segment but still manages to offer more than decent hardware options and even though the manufacturer doesn't list the support of M.2 sticks, during the teardown we found an M.2 SATA SSD slot that actually works fine. So if you are planning on buying a cheap notebook with the extra storage options, this is the notebook for you.