8-core, 16-thread, 95W TDP, 3.4 GHz base clock – AMD's first Ryzen CPU part of the ZEN micro-architecture introduced

AMD held an event in Austin, Texas named "New Horizon". Its aim was to showcase the new and mighty Ryzen CPU based on the company's much-hyped ZEN micro-architecture. We've all heard stories and rumors about the new chip design but only time and testing will tell if AMD will hold up to their words. But on first glance, the new Ryzen processor seems all that we've expected from the company, and even more.
You can find a list of currently available AMD products here: http://amzn.to/2hEETVp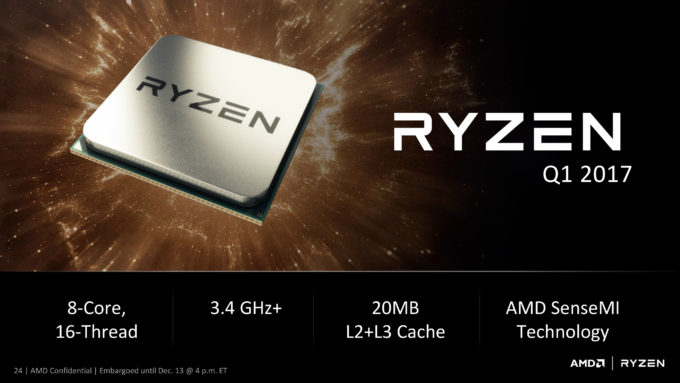 The first product under the Ryzen branding is an 8-core processor with 16-thread design and 3.4 GHz+ base clock. This means that there will be various processors to the Ryzen family and all of them will have at least 3.4 GHz base frequency. It seems that the new architecture has allowed a huge leap in the right direction for AMD. What's more, AMD's CEO Dr. Lisa Su showcased their processor and put it against its only market equivalent with 8-core/16-thread design – Intel's Core i7-6900K. The results were downright impressive because AMD's solution ran at 3.4 GHz base frequency without boost while Intel's chip was unmodified, which means 3.2 GHz base frequency plus boost. Dr. Lisa Su was also quick to clarify that Intel's chip costs the whopping $1 100 but no pricing of the Ryzen was given at the time. Additionally, the Ryzen chip beats the Core i7-6900K at its own game with a ridiculously lower TDP, which means less heat and less power drain. We are talking about 32% less TDP from 140W to 95W. Another featured test in the showcase was the Handbrake transcoding demo where the Ryzen CPU beat Intel's high-end solution by 5 seconds difference (59 vs 54 seconds).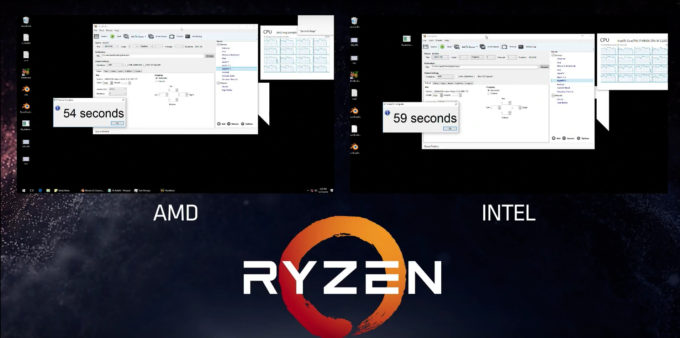 The event took a strange turn for a few minutes when the company rivaled the Core i7-6900K in one more test – gaming. Battlefield 1 at 4K resolution was smoother on a Ryzen + NVIDIA Titan X setup than on Core i7-6900K + NVIDIA Titan X configuration. Yes, you read that right. AMD showcased its top-shelf CPU paired with NVIDIA external graphics instead of using its new VEGA-based GPU, which were also a big part of the conference.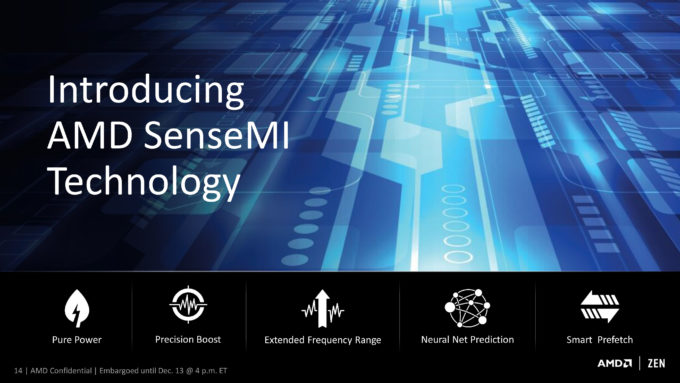 To top things, AMD also introduced a slew of new features under the SenseMI branding. This includes the "Neural Net Prediction" – an AI neural network that learns and predicts what an application is going to do based on past runs, "Smart Prefetch" – relies on the "Neural Net Prediction" feature by anticipating and loading the data before the app requests it (Lisa Su pointed out that these two newly added technologies account for a quarter of Ryzen's monstrous performance). Along with these two, SenseMI offers the so-called "Pure Power" and "Precision Boost", which with the help of 100 integrated sensors monitor the CPU's status with an accuracy to the millivolt, milliwatt, and single-degree level of temperature. This way the CPU can adjust itself depending on the needs and operating temperature in order to squeeze out the best performance without drawing too much power or dispersing unwanted heat.
As we said earlier, only extensive testing and time will tell if AMD's new Ryzen CPU will cement the company's much-deserved spot in the CPU industry or it's just another over-hyped product for the end consumer to be disappointed in.
You can find a list of currently available AMD products here: http://amzn.to/2hEETVp