How to open the Lenovo LOQ 16 (Intel, 2023) – disassembly and upgrade options
1. Removing the Plastic Shroud
The initial step in disassembling the Lenovo LOQ 16 (Intel, 2023) laptop is to remove the plastic shroud on the back. This is achieved by undoing the four Phillips-head screws keeping it secured. After removing the screws, use a plastic pry tool to carefully lift the shroud off.
Hint: Take care not to apply too much force while using the pry tool, as this could potentially damage the plastic shroud.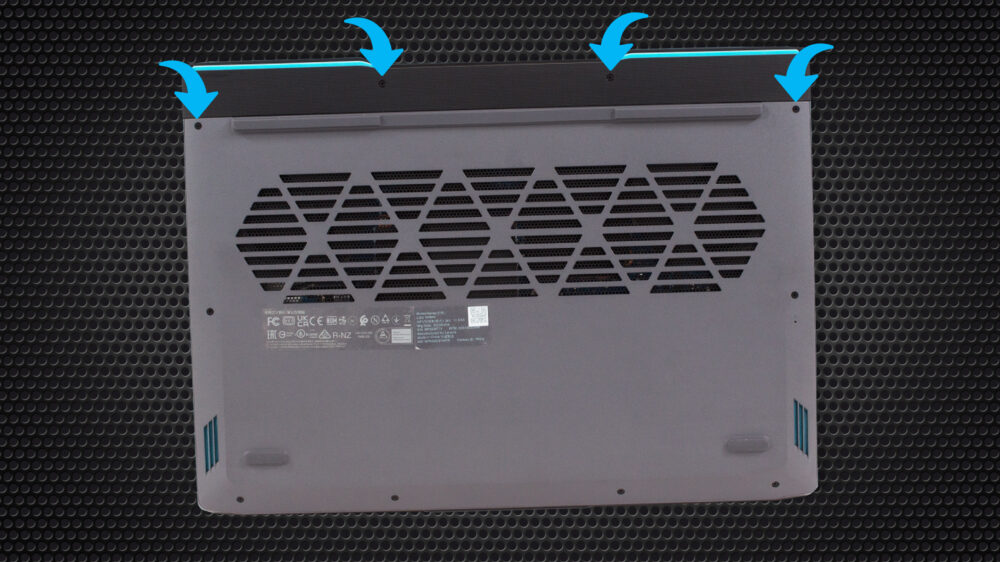 2. Detaching the Bottom Panel
Once the shroud is removed, proceed by undoing the remaining 9 Phillips-head screws that secure the bottom panel to the laptop's chassis. This allows you to gain access to the internal components of the laptop.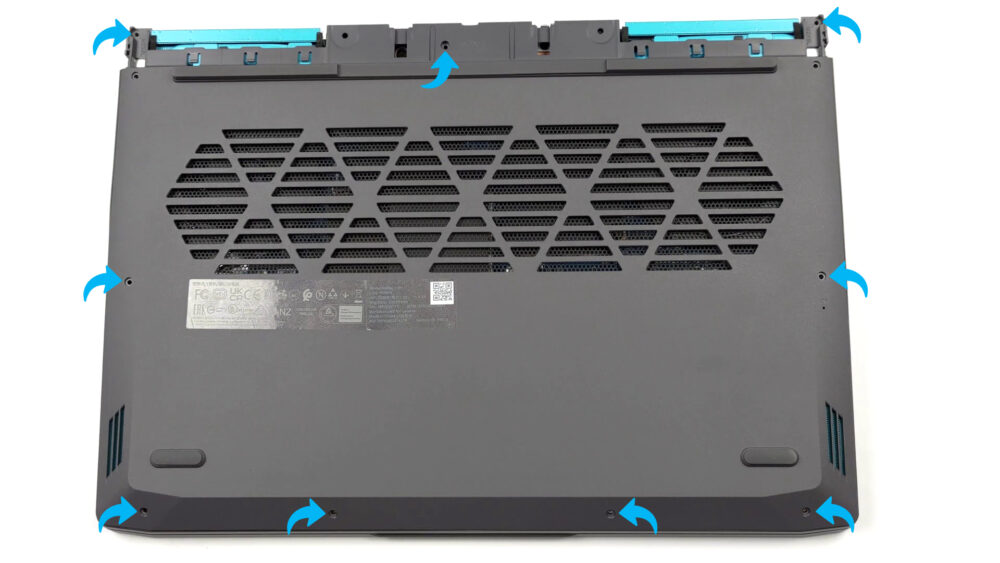 3. Removing the Battery
In the laptop, there is an 80Wh battery pack. To remove the battery, first, disconnect the battery connector from the motherboard. Next, undo all six Phillips-head screws that keep the battery in place.
Caution: Handle the battery with care to avoid puncturing or damaging it.

4. Checking the RAM Slots
For memory expansion, this laptop provides two SODIMM slots that support DDR5 RAM. These slots can be found beneath a metal shroud.
You can buy DDR5 RAM modules here: Buy from Flipkart.com

5. Upgrading the Storage
Storage-wise, the laptop is equipped with two M.2 PCIe x4 slots, which can accommodate Gen 4 SSDs. This allows for significant storage upgrades and enhancements.
You can buy Gen 4 M.2 SSD modules here: Buy from Flipkart.com

6. Analyzing the Cooling System
The cooling system in this laptop includes three heat pipes that connect to four heat sinks. Two fans are installed to blow the heat away, ensuring effective cooling. The graphics memory and the voltage regulator modules (VRMs) are also cooled by a couple of heat spreaders.
Note: Regular maintenance of the cooling system can enhance the laptop's performance and lifespan.

Lenovo LOQ 16i (16" Intel, 2023) in-depth review
With a bunch of gaming notebooks being released every year by Lenovo, now its roster has been upgraded with the LOQ (16" Intel, 2023). To be frank that name is a bit easier to remember than some of the weird numbers and word combinations out there.Nevertheless, this is a gaming machine for people with a low-to-medium budget. It starts with the updated RTX 3050 that has 6GB of GDDR6 RAM, rather than the 4GB this GPU originally shipped with.Interestingly, Lenovo offers the device with the 95W versions of both the RTX 3050 and the RTX 4050, while the top tier RTX 4060 option has a 115W T[...]
Pros
Pretty good gaming performance with GPU overclock function
2x M.2 PCIe x4 Gen 4 slots, 2x DDR5 RAM SODIMM slots in dual channel
144Hz refresh rate (LEN156WUXGA (LEN9153))
No PWM (LEN156WUXGA (LEN9153))
Affordable price tag
Great keyboard
Cons
Covers only 53% of sRGB (LEN156WUXGA (LEN9153))
No SD card
No Thunderbolt 4