How to open the Acer Predator Triton 17X (PTX17-71) – disassembly and upgrade options
1. Unscrewing the Back Panel
To start disassembling the Acer Predator Triton 17X (PTX17-71), undo the 11 Torx-head screws on the back of the device. You will need a Torx-head screwdriver for this process.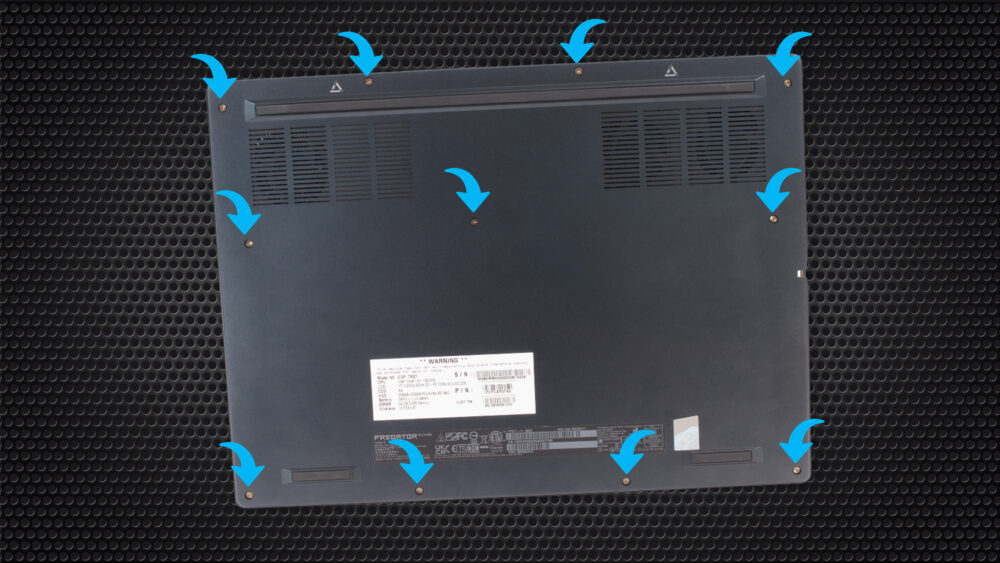 2. Removing the Back Panel
With the screws removed, pry the bottom panel off using a plastic pry tool. Start from one of the back corners to help avoid damaging the device.
Caution: Use gentle force to avoid breaking or scratching the plastic panel.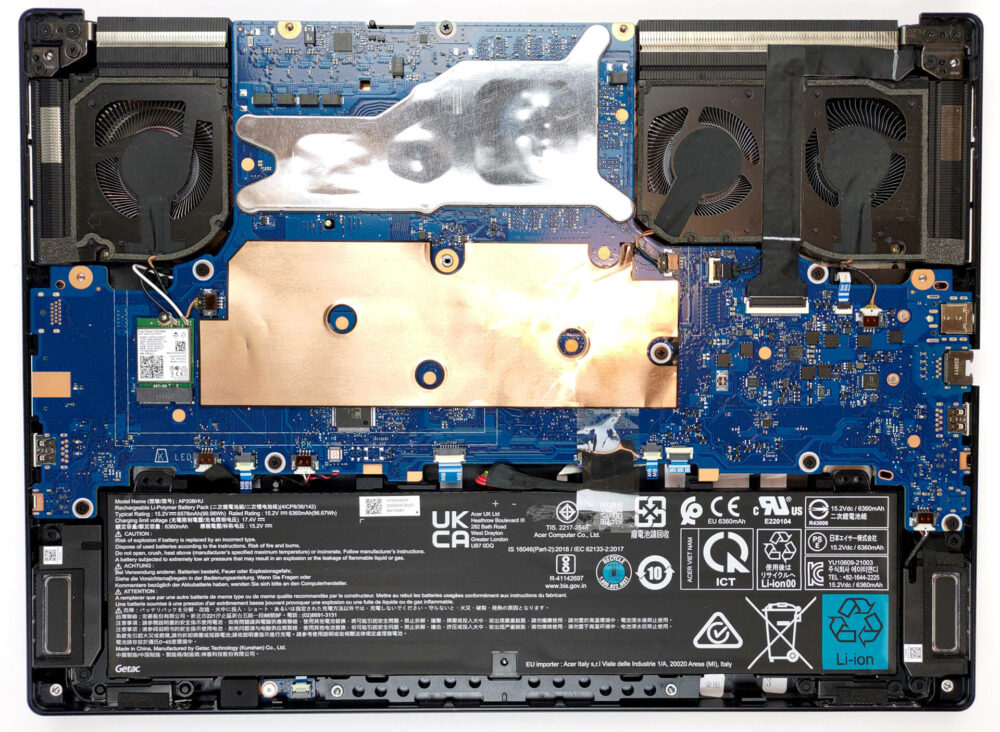 3. Disconnecting the Battery
Inside the laptop, you will find a 99.9Wh battery pack. To remove the battery, unplug it from the motherboard and lift it away.

4. Removing the Wi-Fi Card and Unplugging Connectors
To access the upgrade options, you first need to remove the Wi-Fi card. Additionally, every connector attached to the motherboard must be unplugged. Take note that the motherboard is flipped upside down, and the upgrade options are located at the bottom.
Hint: Take pictures before unplugging connectors for easier reassembly later.

5. Detaching the Motherboard
Next, undo all 8 Phillips-head screws that secure the motherboard to the laptop's chassis, and the four screws that hold the fans in place. Please note that two of these screws are located beneath the display connector. After all screws are removed, you can now detach the motherboard from the chassis.
Caution: Handle the motherboard with care to prevent damaging any of its components.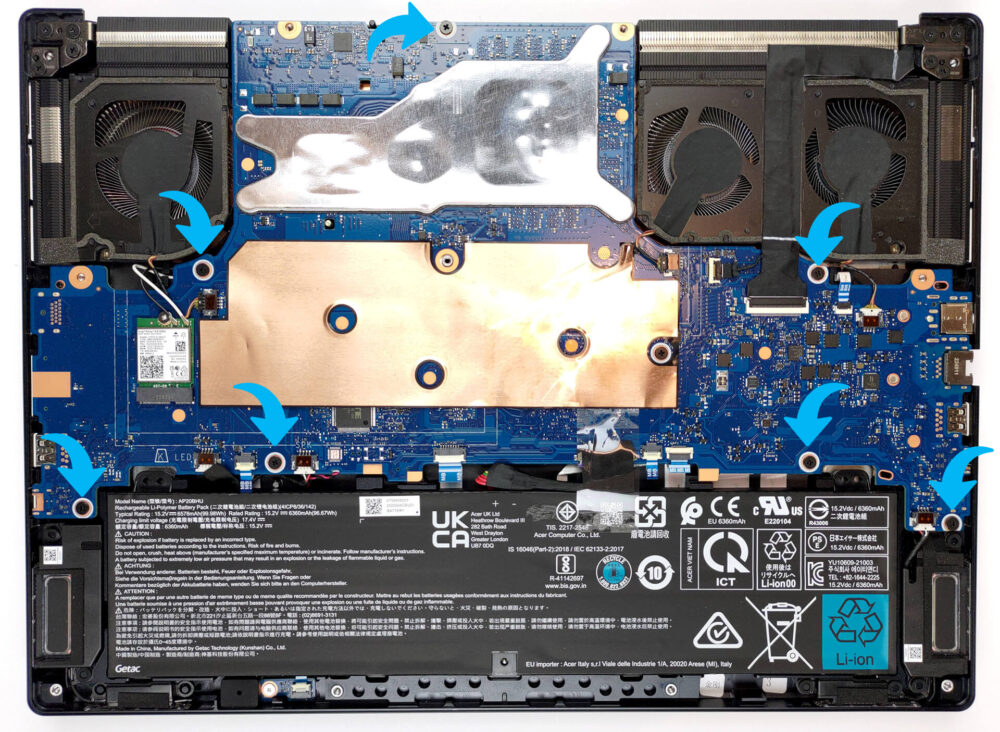 6. Checking the RAM and Storage Options
After removing the motherboard, you will see two SODIMM slots that support DDR5 RAM. For storage, the device provides two M.2 PCIe x4 slots, which are compatible with Gen 4 SSDs and support RAID mode.
You can buy DDR5 RAM modules here: Buy from Flipkart.com
You can buy Gen 4 M.2 SSD modules here: Buy from Flipkart.com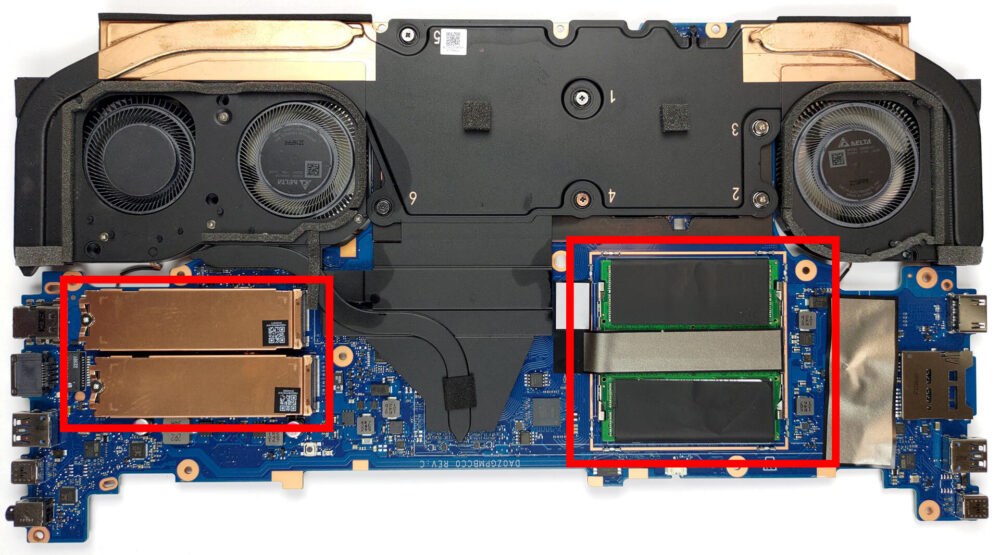 7. Inspecting the Cooling System
The laptop's cooling solution features a vapor chamber, heat spreader for the graphics memory, several heat pipes, four heat sinks, and three fans.
Hint: Regularly cleaning the cooling system can help maintain the laptop's performance.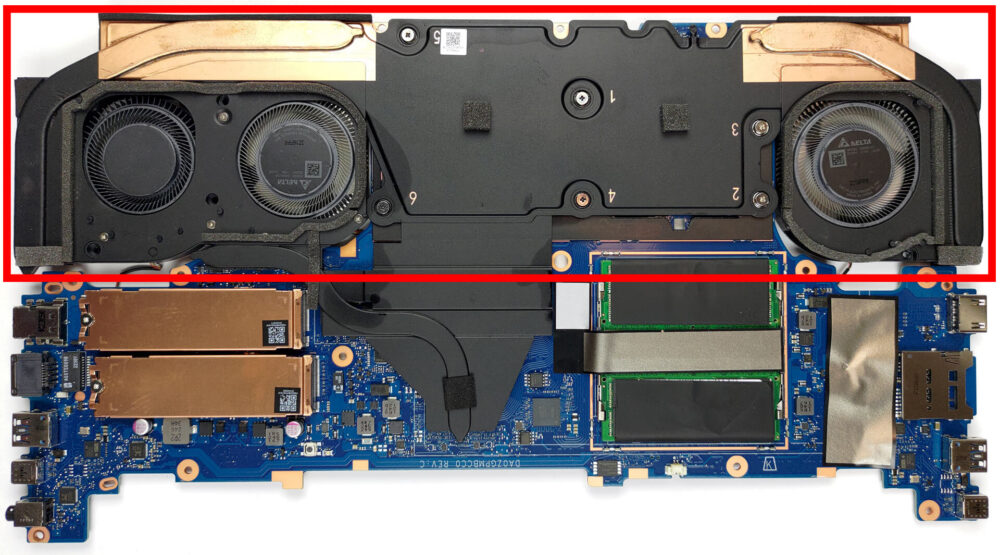 Acer Predator Triton 17X (PTX17-71) in-depth review
Acer's Predator Triton 17X (PTX17-71) is an homage to the Predator Triton 700, which was one of the first extremely powerful thin, and light gaming laptops. What is behind this idea, though?Well, the answer is pretty straightforward - the search for excellence. And in the middle of 2023, excellence means having an RTX 4090 with a 175W TGP, while the processor should be a minimum of a Core i9-13900HX.As you can imagine, this will cost you a fortune, and you have all right to demand perfection. What does perfection look like in terms of a display? If you ask Acer, they will tell you - a[...]
Pros
Very thin chassis
Liquid metal + vapor chamber
16:10 aspect ratio is great for work and the 1600p panel has a 250Hz refresh rate (AUO B170QAN01.4 (AUO44A8))
Covers 100% of DCI-P3 (AUO B170QAN01.4 (AUO44A8))
Mini LED backlight with super high maximum brightness and contrast ratio (AUO B170QAN01.4 (AUO44A8))
RTX 4090 (175W) with a MUX Switch
2x SODIMM + 2x M.2 PCIe x4 Gen 4
Great build quality
2x Thunderbolt 4 + SD card slot
Cons
Hard to upgrade
Short battery life
Expensive
Uses PWM (AUO B170QAN01.4 (AUO44A8))