Top 100 Best Laptops for GTA V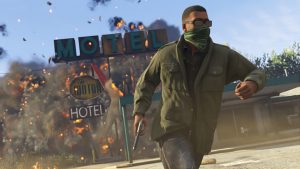 Welcome back to the sunny state of San Andreas, where opportunities arise and people fall. The Grand Theft Auto series revisits San Andreas in the triple-A format for the first time since the overwhelmingly successful GTA: San Andreas. Step into the shoes of three protagonists with different stories and motivations, connected by their efforts to make a buck through bank heists, grand theft auto, and… stock market?
Step into a fully fleshed, beautifully crafted world of Grand Theft Auto V and have your way with the city and surrounding areas. See for yourself what caused the enthusiastic reviews.
Choose a game:
Choose graphics settings:
Choose desired FPS (Full HD, 1080p):
Intel Core i7-7700HQ
NVIDIA GeForce GTX 1050 Ti (4GB GDDR5)
15.6", Full HD (1920 x 1080), IPS
128GB SSD + 1000GB HDD
2x 8GB DDR4, 2400MHz
2.40 kg (5.3 lbs)
Processor

Intel Core i7-7700HQ

VideoCard

NVIDIA GeForce GTX 1050 Ti (4GB GDDR5)

RAM

1x 16GB DDR4

STORAGE

256GB SSD + 1000GB HDD

Display

15.6", Full HD (1920 x 1080), IPS

OS

Windows 10 Home
Processor

Intel Core i7-7700HQ

VideoCard

NVIDIA GeForce GTX 1050 Ti (4GB GDDR5)

RAM

16GB DDR4 (upgradable to 32GB)

STORAGE

256GB SSD

Display

15.6", Full HD (1920 x 1080), IPS

OS

Windows 10 Home
Show me the best laptops for…