Top 100 Best Laptops for Counter-Strike: Global Offensive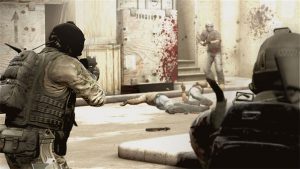 Counter-Strike: Global Offensive is one of the most popular multiplayer shooters with great impact on the way we look at online gaming. In CS:GO you choose your team- terrorists or counter-terrorists, eliminate your enemies and earn money to buy better equipment at the beginning of every round.
The Developers of CS: GO have added new maps, characters and weapons to deliver a better, improved gaming experience. What has also been introduced are the new gameplay modes, matchmaking, and leaderboards.
Still, the most fervent fans of the franchise will not be disappointed as the game has changed only slightly and the classic CS content remains.
Choose a game:
Choose graphics settings:
Choose desired FPS (Full HD, 1080p):
Intel Core i7-7700HQ
NVIDIA GeForce GTX 1050 Ti (4GB GDDR5)
15.6", Full HD (1920 x 1080), IPS
128GB SSD + 1000GB HDD
2x 8GB DDR4, 2400MHz
2.40 kg (5.3 lbs)
Processor

Intel Core i7-7700HQ

VideoCard

NVIDIA GeForce GTX 1050 Ti (4GB GDDR5)

RAM

1x 16GB DDR4

STORAGE

256GB SSD + 1000GB HDD

Display

15.6", Full HD (1920 x 1080), IPS

OS

Windows 10 Home
Processor

Intel Core i7-7700HQ

VideoCard

NVIDIA GeForce GTX 1050 Ti (4GB GDDR5)

RAM

16GB DDR4 (upgradable to 32GB)

STORAGE

256GB SSD

Display

15.6", Full HD (1920 x 1080), IPS

OS

Windows 10 Home
Show me the best laptops for…