Top 100 Best Laptops for Assassin's Creed Valhalla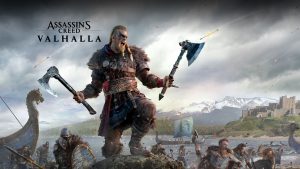 The next installment of the Assassin's Creed saga brings the player to the cold Viking lands. The game protagonist is Eivor and you can play with either male or female character and one of your main story goal is to seek vengeance for your dead father that has been killed by a rogue warlord Kjotve the Cruel. The game is set in 873 AD and with the aid of numerous quests, you can withness the Viking invasion of Britain.
As a typical Assassin's Creed, you can choose to be a silent assassin and to kill your enemies by a surprise with the hidden blade. Or you can unleash your Viking brutality, confronting enemies face to face, while using dual-wield weapons (or even a shield). The game features a lot of RPG elements and you have at your disposal many skills to choose from. Just like the previous Assassin's Creed titles, the game uses the AnvilNext 2.0 engine.
Choose a game:
Choose graphics settings:
Choose desired FPS (Full HD, 1080p):
Intel Core i7-8750H
NVIDIA GeForce RTX 2060 (Laptop)
15.6", Full HD (1920 x 1080), 144 Hz, IPS
512GB SSD
16GB DDR4
2.09 kg (4.6 lbs)
Processor

Intel Core i7-8750H

VideoCard

NVIDIA GeForce RTX 2060 (Laptop)

RAM

8GB DDR4, 2666 MHz

STORAGE

512GB SSD

Display

15.6", Full HD (1920 x 1080), IPS

OS

Windows 10 Home
Processor

Intel Core i7-8750H

VideoCard

NVIDIA GeForce RTX 2060 (Laptop)

RAM

16GB DDR4

STORAGE

256GB SSD + 1000GB HDD

Display

15.6", Full HD (1920 x 1080), 144 Hz, IPS

OS

Windows 10 Home
Show me the best laptops for…