Top 100 Best Laptops for Apex Legends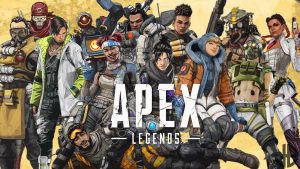 When it comes to battle royal games, Apex Legends is one of the most popular titles out there. Its main pro is that the game is free to play. This means everyone can download it via Origin or Steam and play it right away.
The developer (Respawn Entertainment) was able to squeeze everything out of the good old Source engine. The graphics side is definitely good and the gameplay is fun and challenging as well.
Choose a game:
Choose graphics settings:
Choose desired FPS (Full HD, 1080p):
Intel Core i7-7700HQ
NVIDIA GeForce GTX 1050 Ti (4GB GDDR5)
15.6", Full HD (1920 x 1080), IPS
128GB SSD + 1000GB HDD
2x 8GB DDR4, 2400MHz
2.40 kg (5.3 lbs)
Processor

Intel Core i7-7700HQ

VideoCard

NVIDIA GeForce GTX 1050 Ti (4GB GDDR5)

RAM

1x 16GB DDR4

STORAGE

256GB SSD + 1000GB HDD

Display

15.6", Full HD (1920 x 1080), IPS

OS

Windows 10 Home
Processor

Intel Core i7-7700HQ

VideoCard

NVIDIA GeForce GTX 1050 Ti (4GB GDDR5)

RAM

16GB DDR4 (upgradable to 32GB)

STORAGE

256GB SSD

Display

15.6", Full HD (1920 x 1080), IPS

OS

Windows 10 Home
Show me the best laptops for…