Tronsmart Element Mega quick review – a good looking speaker with powerful sound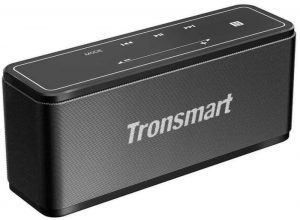 Tronsmart Element Mega is a cool Bluetooth speaker with NFC capabilities. You can read our first impressions of it here. Now, it's time for our a bit more detailed review.
Let's make a quick look at the features of this device. The Element Mega is a compact speaker that is able to play music (or whatever sound you want) from your smartphone, tablet, TV, etc. You can connect to it via Bluetooth or NFC. The pairing is a piece of cake – if you use Bluetooth the whole process takes around 10 seconds and half the time if you prefer NFC.
There is a large deep bass subwoofer (ok, for a speaker) and the SoundPulse technology is providing up to 40W (manufacturer specs). There is also 3D digital sound with DSP technology. No big hardware buttons on it – you can control it with gestures or you can use the modern-looking touch panel that is illuminated (looks great) when the device is turned on.
Check out the Tronsmart Element Mega on Geekbuying HERE.
Contents
Unboxing
First look
Tronsmart Element Mega comes in a sturdy box that looks and feels strong so the speaker is safely placed inside. In the box, there is foam around the gadget for more safety. Other things inside – a manual (translated in 7 languages), a charging cable and an AUX cable. The manual is very straightforward – you have to read two small pages and you are good to go.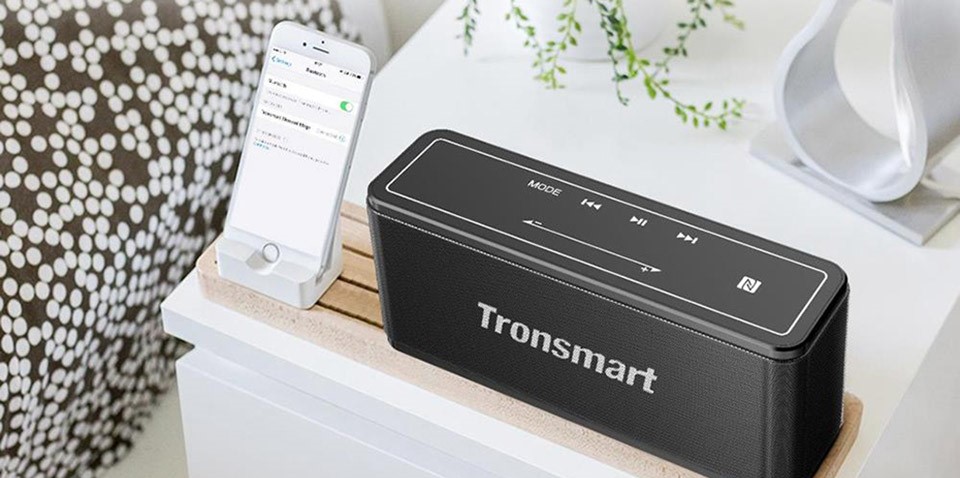 Tronsmart Element Mega is comfortable to hold with one hand. You can walk without worries in the park or in the mountain, listening to music – the grip is good. Maybe because the four sides of the device have meshed texture (with a lot of small holes) and that provides extra traction when operating with it.
The meshed surface looks good and gives the device a great modern look. The operating panel has a black matte finish and looks great with the illuminated stripe around the control sensors. The device is very stable when it is placed on a desk or glass surface – accidental little touches while walking around it aren't a problem, it's stable as a statue.

Using the device
As we already said – pairing is very easy. You can use the AUX cable too but it's a bit awkward to use a cable for connecting two devices at the end of 2019. If you want it that way – why not.  After the pairing, you can enjoy your favorite music from your smartphone – local mp3 collection, YouTube, radio, Soundhound, Spotify, you name it. For such a small device the sound is really loud and crisp.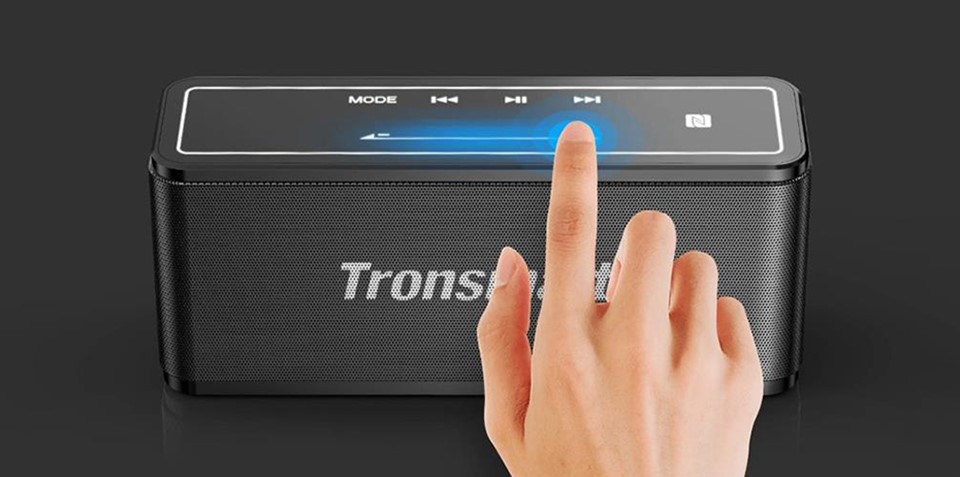 We were impressed that there is a nice amount of bass – play some tracks with heavy bass in it, pump up the volume, place your hand close to the subwoofer and feel the….wind from it. You can control the volume with the built-in slider which is very pleasant to operate with. Using the sensor buttons or gestures was flawless – keep in mind, that every command you execute will take about a second, so be patient for one blink of an eye time. You can use an SD/TF card too – in this mode, you don't need a smartphone, the Element Mega will recognize the music after it's on and you can listen to it. If you answer a phone call while listening to a track, the music will be muted and you will hear the caller's voice thought the speaker. When you are dialing someone while your phone is still paired with the Tronsmart you can select "answering mode – speaker" and the phone call will be reproduced via the speaker.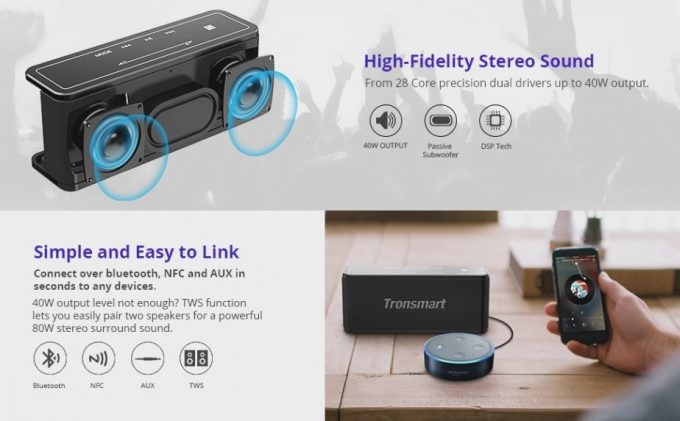 The voice assistant is an interesting feature. Touch the button and say something  – for example, "take a selfie" will open the camera of your phone and the timer will start a five-second countdown before the picture to be taken. If you say "show me some movies" google search will display a result with some of the newest movies right now. You can experiment a lot, just talk something you want to search, it's easy and fun at the same time.

Verdict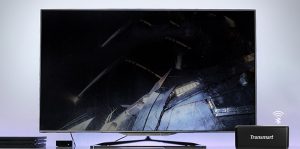 We like the Tronsmart Element Mega. It's a light and compact device that you can take everywhere with you and listen to some favorite tracks. It will fit in big pockets – maybe in a jacket or a raincoat. The gadget looks good with the meshed surface and the matte finish on the control panel and on the bottom side too. It has enough grip no matter if it's placed on the desk or you are walking with it.
The sound coming from this thing is very good – loud, crisp, and there is a decent bass too. We weren't expecting that but the device surprised us. If you need louder sound for your outside party you can connect two devices simultaneously – it's function is called True Wireless Stereo (TWS) because two Element Mega devices are able to produce realtime stereo sound.
For the final sentence, battery life is really good – we left it on the desk playing music for the whole night and that drained 40% of the battery. Not bad.
Check out the Tronsmart Element Mega on Geekbuying HERE.