Top 5 reasons to BUY or NOT to buy the MSI GP66 Leopard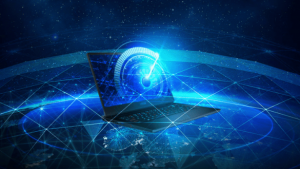 With MSI's MSIology event, we got a bunch of new laptops announced, many of which we are slowly starting to receive. For today we have the MSI GP66 Leopard, which is the smaller brother of the GP76 Leopard. With that, you may think that you get lesser specs, but that is far from the truth.
What you do get, however, is a much more portable package, both when dimensions and weight are considered. The CPU choices remain the same from last year, but in the GPU department, you get the newest RTX 3000-series Ampere graphics cards from NVIDIA. Pair that with a great display, with very good color coverage and excellent color accuracy and you get a versatile machine that can suit a variety of purposes.
Today we are presenting you with LaptopMedia's Top 5 picks about the MSI GP66 Leopard.
MSI GP66 Leopard: Full Specs / In-depth Review
4 reasons to BUY the MSI GP66 Leopard
1. The Design and Build quality
Starting off with the exterior, the MSI GP66 Leopard has a very low-key, industrial look, that doesn't draw too much attention to itself. The minimal MSI branding on the lid is ideal and it lets the body lines of the laptop speak for themselves. Build-wise the laptop mainly uses plastic for its base and bottom panel, while the lid looks like it's made from metal, going off a more premium vibe.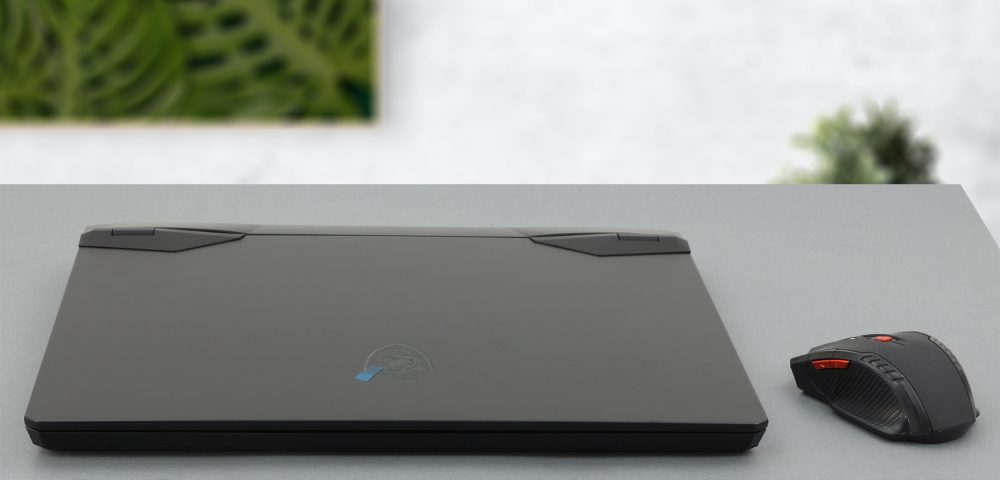 2. The Cooling
The very capable hardware inside reaches quite high temperatures when we put the laptop through our stress test. The CPU test uses 100% of the cores and we measure both the frequencies and the temperatures. In the test, we stimulate a short (2-10 seconds), medium (15-30 seconds), and prolonged (10-15 minutes) heavy load. The Core i7-10870H retains a relatively high frequency even after a prolonged load. However, the temperatures get quite high right from the get-go but don't reach critical mass.
| Intel Core i7-10870H (45W TDP) | 0:02 – 0:10 sec | 0:15 – 0:30 sec | 10:00 – 15:00 min |
| --- | --- | --- | --- |
| MSI GP66 Leopard (High Performance) | 3.49 GHz (B+59%) @ 95°C @ 85W | 3.34 GHz (B+52%) @ 95°C @ 76W | 3.24 GHz (B+47%) @ 93°C @ 70W |
| MSI GP76 Leopard (High Performance) | 3.67 GHz (B+67%) @ 95°C @ 103W | 3.53 GHz (B+60%) @ 95°C @ 94W | 3.33 GHz (B+51%) @ 90°C @ 80W |
GPU-wise, the RTX 3060's temperatures were within the reasonable and the GPU frequency was about the same even after 30 minutes of testing.
| NVIDIA GeForce RTX 3060 | GPU frequency/ Core temp (after 2 min) | GPU frequency/ Core temp (after 30 min) | GPU frequency/ Core temp (Max Fan) |
| --- | --- | --- | --- |
| MSI GP66 Leopard | 1863 MHz @ 72°C @ 124W | 1852 MHz @ 75°C @ 125W | 1849 MHz @ 69°C @ 127W |
| MSI GP76 Leopard | 1860 MHz @ 71°C @ 129W | 1857 MHz @ 73°C @ 128W | 1869 MHz @ 67°C @ 128W |
3. The Display
The panel of the GP66 Leopard remains the same as the one on last year's device. You get a Full HD IPS panel with a size of 15.6 inches and a 144Hz refresh rate.
We test the reaction time of the pixels with the usual "black-to-white" and "white-to-black" method from 10% to 90% and vice versa.
We recorded Fall Time + Rise Time = 10 ms.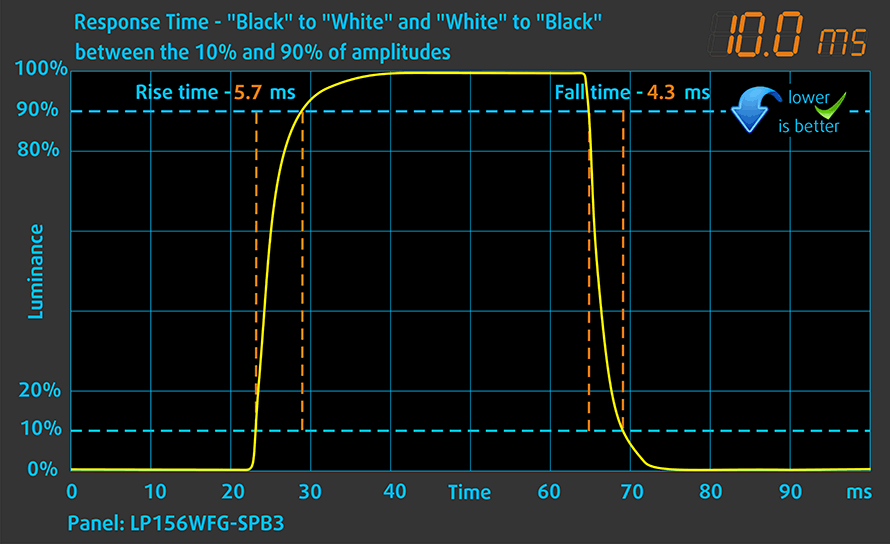 After that, we test the reaction time of the pixels with the usual "Gray-to-Gray" method from 50% White to 80% White and vice versa between 10% and 90% of the amplitude, and here, we also saw exceptional results.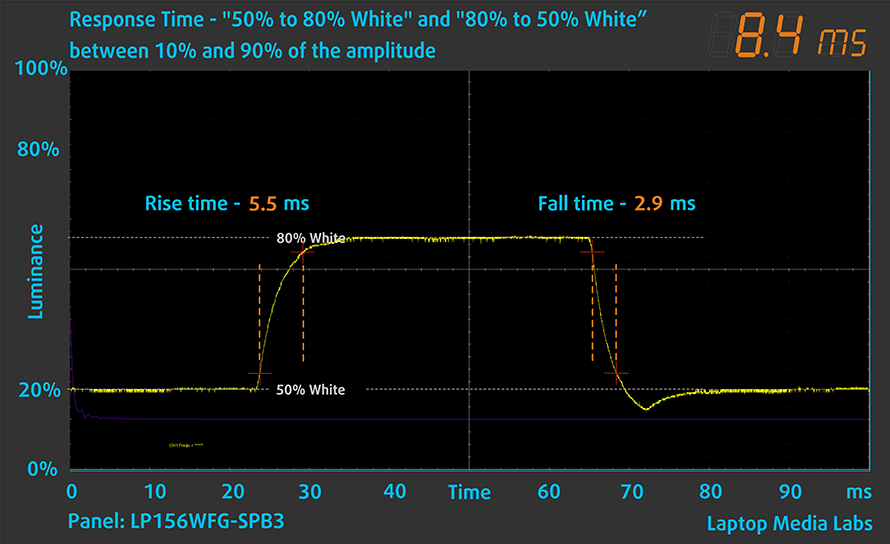 The display has comfortable viewing angles and a very high maximum brightness. It would appeal to designers and content creators as well, with 94% coverage of the sRGB color gamut. The backlight is flicker-free at all brightness levels, making it safe to use for extended periods of time.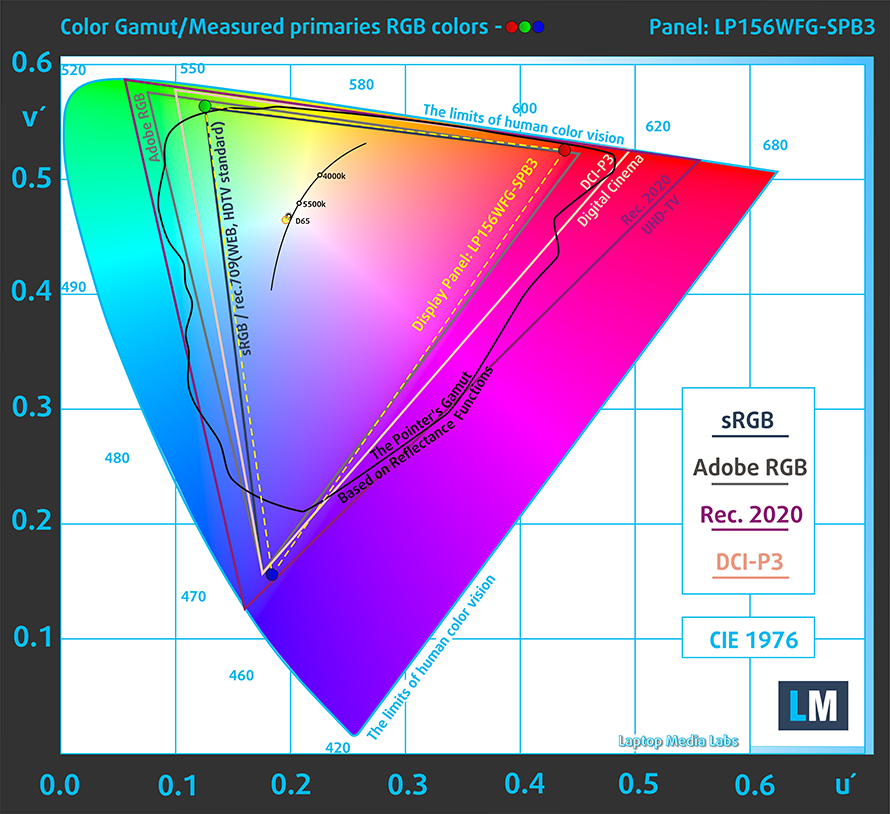 The color accuracy is some of the best that we have seen, especially with our "Gaming and web design" profile. Below you can see the results with the factory settings (left) and with our profile applied (right).
Buy our profiles
Since our profiles are tailored for each individual display model, this article and its respective profile package are meant for MSI GP66 Leopard configurations with 15.6″ FHD IPS LG LP156WFG-SPB3 (LGD0625).
*Should you have problems with downloading the purchased file, try using a different browser to open the link you'll receive via e-mail. If the download target is a .php file instead of an archive, change the file extension to .zip or contact us at [email protected]
Read more about the profiles HERE.
In addition to receiving efficient and health-friendly profiles, by buying LaptopMedia's products you also support the development of our labs, where we test devices in order to produce the most objective reviews possible.
4. The Upgradeability
The memory and storage are both upgradeable, as with most gaming devices. You can access the slots by removing the bottom panel. You get two SODIMM slots that support up to 64GB of DDR4 memory and two M.2 PCIe x4 drives for future SSD expansion. There is a factory sticker, though, that if damaged may void your warranty, so be careful.

1 reason NOT to buy the MSI GP66 Leopard
1. The Battery life
Using our battery life tests, in which we turn the Windows Better Performance option on, set the brightness to 120 nits and close all apps except the one with which we test the notebook. The battery unit here has a size of 65Wh and lasts for 4 hours and 23 minutes of Web browsing and 4 hours and 54 minutes of video playback. Compared to last year's model, the battery life is much more balanced.
In order to simulate real-life conditions, we used our own script for automatic web browsing through over 70 websites.
For every test like this, we use the same video in HD.
All MSI GP66 Leopard configurations: