Top 5 reasons to BUY or NOT to buy the Lenovo Yoga Tab 11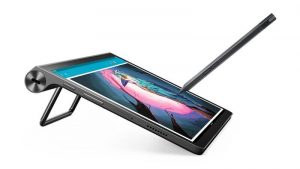 With Lenovo being so far ahead of other manufacturers in the laptop market, we wanted to see how they are doing in other areas of the tech industry. Today we have the Lenovo Yoga Tab 11, which is a mid-range tablet offering from Lenovo. It offers a lot of uniqueness that translates well to make itself stand out from the heavy competition from Samsung and Apple.
Today we are presenting you with LaptopMedia's top 5 picks about the Lenovo Yoga Tab 11.
Lenovo Yoga Tab 11: In-depth Review
You can check the current price of Lenovo Yoga Tab 11 here: Buy from Amazon.com (#CommissionsEarned)

4 reasons to BUY the Lenovo Yoga Tab 11
1. Speakers
The audio setup here is quite good when you consider the affordable nature of the tablet. You get a total of four speakers, with two on each side of the device, as well as two others on the huge grill where the hinge is situated. The speakers are tuned by JBL and deliver quality audio.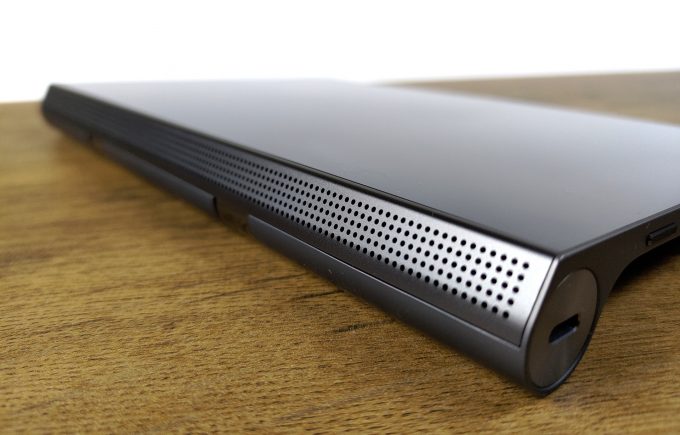 2. I/O
Tablet I/O isn't as wide as a laptop's I/O, but this device offers pretty much what you would need: a MicroSD card reader, a SIMcard tray, and a USB Type-C port that is used both for charging and other connectivity.

3. Battery life
We tested the battery life with 3DMark's Wild Life stress test, whilst setting the screen brightness to 120 nits. The 7700 mAh battery unit lasted for about 6 hours and 40 minutes of straight gaming.

4. Design
The design of the tablet is pretty unique. While other manufacturers try to remain as slim and as light as possible, Lenovo offers usability and functionality. First of all, the tablet is pretty well build, featuring glass for the display cover, stainless steel for the hinge mechanism, aluminum for a part of the back cover and the whole frame, while the rest of the back is covered in cloth, which looks nice, but will be a pain in the rear to keep clean.
The hinges are smooth and the stand has a rubber foot, which secures the tablet in place. It also allows you to hang the laptop if you ever want to do that.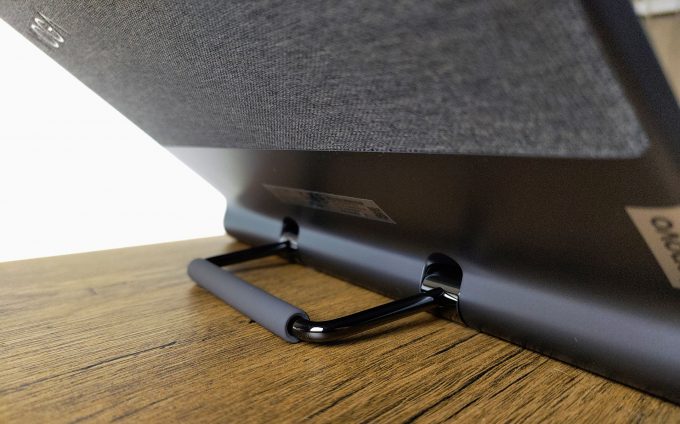 1 reason NOT to buy the Lenovo Yoga Tab 11
1. Performance
The SoC that is used here is on a good level mainly for media consumption like watching movies and videos, maybe some gaming. It isn't on the level of flagship tablets from Samsung and Apple but does surprisingly well in our benchmarks against other mid-range offerings.

CPU tests
The eight-core Mediatek Helio G90T has two performance cores, clocked at 2.05 GHz and six power-efficient cores, running at 2.0 GHz, which isn't the configuration that we have seen in most mobile chips that use the big.LITTLE architecture.
| CPU Benchmarks | single/multi Geekbench 5 | PCMark Work 3 | Octane V2 | Mozilla Kraken 1.1 (lower is better) |
| --- | --- | --- | --- | --- |
| Lenovo Yoga Tab 11 | 511/1634 | 8404 | 14693 | 3143.7 ms |
| Samsung Galaxy Tab S7 FE | 658/1957 | 8828 | 19517 | 2001.2 ms |
| Huawei MatePad Pro | 756/2918 | – | 21479 | 2288 ms |
| Samsung Galaxy Tab S6 | 747/2709 | – | 23685 | 2171 ms |
| Samsung Galaxy Tab S7 | 972/3000 | – | 27339 | 1972 ms |
GPU tests
The SoC comes with the Mali-G76 MC4 GPU.
| GPU Benchmarks | 3DMark Slingshot (Graphics score) | 3DMark Wildlife | GFXBench Manhattan 3.0 (1080p offscreen) | GFXBench Manhattan 3.1 (1080p offscreen) | GFXBench Aztec Ruins OpenGL (1080p offscreen) |
| --- | --- | --- | --- | --- | --- |
| Lenovo Yoga Tab 11 | 3362 | 1342 | – | – | – |
| Samsung Galaxy Tab S7 FE | 3856 | 1109 | 44 fps | 32 fps | 22 fps |
| Huawei MateBook Pro | 4301 | 3281 | 95 fps | 72 fps | 47 fps |
| Samsung Galaxy Tab S6 | 9176 | 2118 | 96 fps | 69 fps | 42 fps |
| Samsung Galaxy Tab S7 | 13520 | 4240 | 140 fps | 97 fps | 59 fps |
You can check the current price of Lenovo Yoga Tab 11 here: Buy from Amazon.com (#CommissionsEarned)