Top 5 reasons to BUY or NOT to buy the Lenovo ThinkPad P15v Gen 2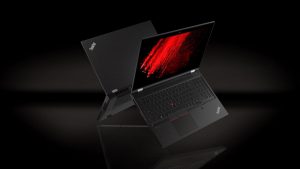 The ThinkPad P15v Gen 2 looks amazing on paper. You've got high-performing Tiger Lake processors, professional-grade graphics, and quality display offerings.
All of that in a decently portable package, that weighs around less than 2.1 kg. However, there are some things that could have been better, which hinder the performance of the laptop. However, they are easy to fix, and we expect Lenovo to do wonders with their next P15v.
Today we are presenting you with LaptopMedia's Top 5 picks about the Lenovo ThinkPad P15v Gen 2.
Lenovo ThinkPad P15v Gen 2: Full Specs / In-depth Review
4 reasons to BUY the Lenovo ThinkPad P15v Gen 2
1. Upgradeability
In terms of upgradeability, this laptop offers everything you would even need, including two SODIMM RAM slots, which support up to 64GB of memory in dual-channel mode. The storage is accessible through two M.2 PCIe x4 slots, which support PCIe Gen 4 drives.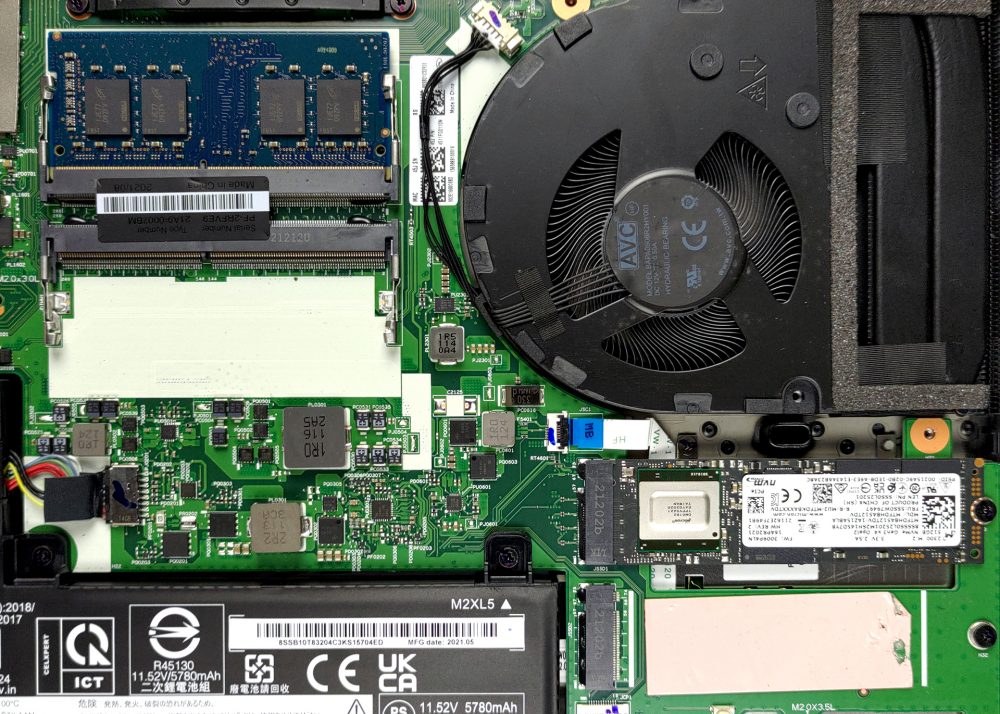 Here is our detailed teardown video, which shows how to access both the RAM and SSD slots.
2. Design and build quality
Lenovo doesn't shy away from admitting that this laptop is built entirely from plastic. However, the build quality is better than some other fully aluminum laptops out there, being able to stand firm when we tried to twist it. The industrial design that is at this point vintage ThinkPad is seen here as well, with a boxy shape and minimal branding. In terms of weight and height, the laptop measures 2.07 kg and 22.7 mm, respectively. The lid can be opened with one hand, with the hinges being stable. However, it is bendier than the base.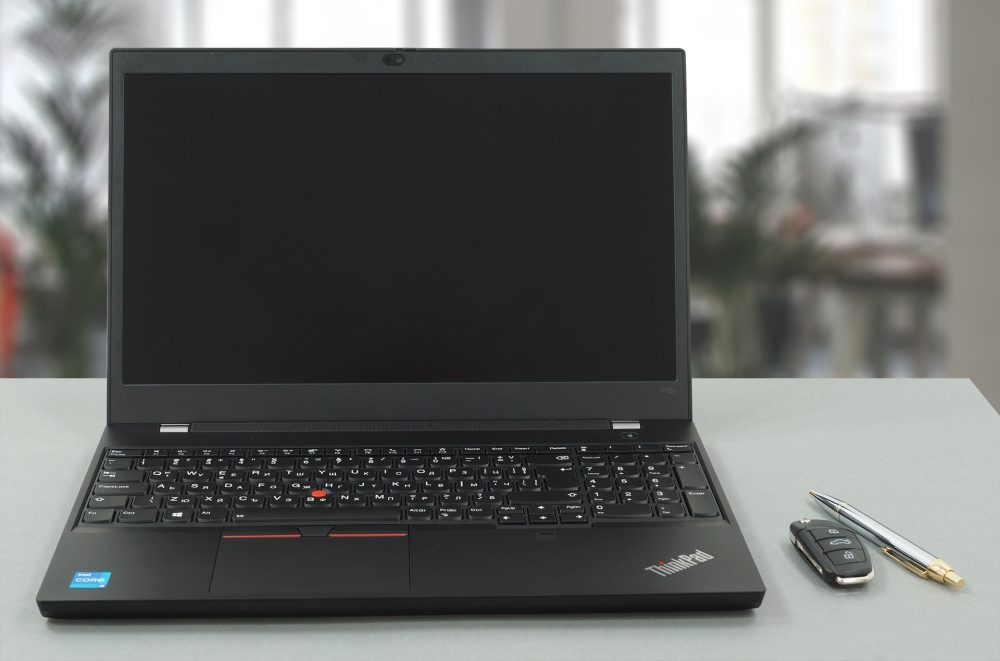 3. Input devices
Going further down, the keyboard is one of the best in its class. It has long key travel, clicky feedback, and spill-resistance. A backlight is also included, making the unit even more comfortable to use in dimly lit conditions. There is a Red Nippe with physical buttons above the touchpad. The touchpad doesn't have dedicated buttons, but the Mylar surface is very good. However, the clicky mechanism has a short travel and gets harder to click the higher up you go.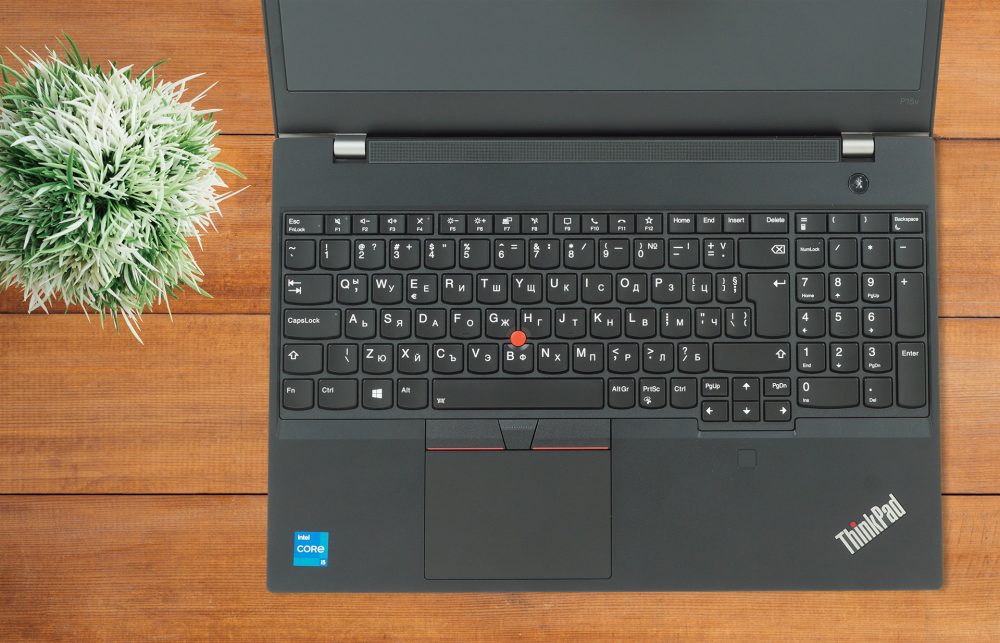 4. I/O
The I/O is full of ports, including two USB Type-A 3.2 (Gen. 1) ports, one Thunderbolt 4 port, an RJ-45 connector, an HDMI 2.0 connector, an SD card reader, and a 3.5 mm audio jack. There is a SIMcard tray on the back, while a SmartCard reader is optional.
1 reason NOT to buy the Lenovo ThinkPad P15v Gen 2
1. Cooling
The cooling setup here definitely isn't enough to handle a power-hungry CPU and a professional-grade GPU. It consists of two heat pipes for the CPU and GPU, along with several heat spreaders that keep the VRMs and VRAM's temperatures in check.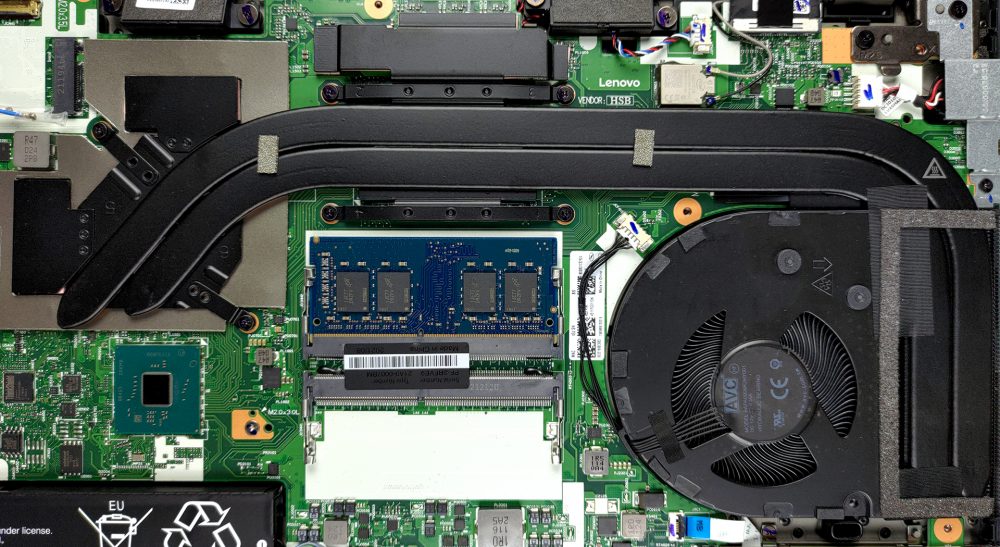 Max CPU load
| Intel Core i5-11400H (45W TDP) | 0:02 – 0:10 sec | 0:15 – 0:30 sec | 10:00 – 15:00 min |
| --- | --- | --- | --- |
| Lenovo ThinkPad P15v Gen 2 | 2.90 GHz (B+32%) @ 99°C @ 42W | 2.75 GHz (B+25%) @ 99°C @ 39W | 2.58 GHz (B+17%) @ 99°C @ 33W |
| MSI Katana GF66 | 3.30 GHz (B+50%) @ 95°C @ 52W | 3.14 GHz (B+43%) @ 94°C @ 48W | 3.23 GHz (B+47%) @ 95°C @ 47W |
Ultimately, the cooling doesn't allow the processor to reach higher clock speeds, with the chip not going over 3.00 GHz, while retaining a temperature of 99°C.

Real-life gaming
| NVIDIA Quadro T600 | GPU frequency/ Core temp (after 2 min) | GPU frequency/ Core temp (after 30 min) |
| --- | --- | --- |
| Lenovo ThinkPad P15v Gen 2 | 1311 MHz @ 77°C | 1300 MHz @ 80°C |
| Dell Precision 15 3561 | 1333 MHz @ 71°C | 1338 MHz @ 70°C |
The GPU also struggles to hit higher clocks than its competitors, while maintaining higher temperatures.

Comfort during combined load
The hotspot of the base has a temperature of 43°C, which is quite good, especially considering the hellscape that is going on inside.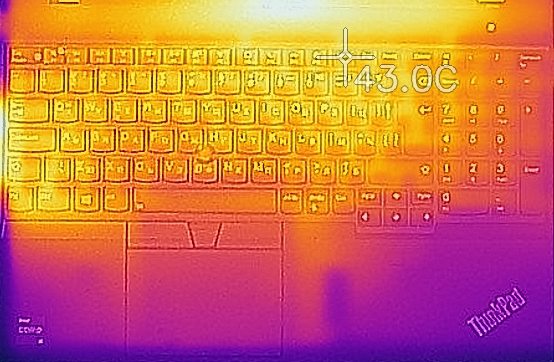 All Lenovo ThinkPad P15v Gen 2 configurations: