Top 5 reasons to BUY or NOT to buy the HP Victus 16 (16-e0000)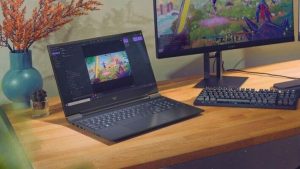 When we first saw Victus 16, we thought it was a new Creator laptop from HP. Safe to say, we weren't that far off. As you will see below, the Victus laptop is a very good all-around device that can fill a variety of purposes. What HP is trying to do with this new Victus brand is to fill the space between their OMEN flagship devices and the Pavilion Gaming budget laptops, offering a new mid-range brand, which looks very promising.
Bringing both AMD and Intel power, along with RTX AMpere graphics, you get a ton of hardware options, regardless if you prefer Red or Blue.
Today we are presenting you with LaptopMedia's top 5 picks about the HP Victus 16 (16-e0000).
HP Victus 16 (16-e0000): Full Specs / In-depth Review
3 reasons to BUY the HP Victus 16 (16-e0000)
1. Upgradeability
The laptop offers both RAM and storage upgradeability, through two SODIMM slots, which can house up to 64GB of RAM and two M.2 PCIe x4 drive slots for SSD expansion.

Here is our detailed teardown video, which shows exactly how to access both the RAM and SSD slots.
2. Display quality
The laptop is offered with two 16.1-inch Full HD IPS displays, one of which has a 144Hz refresh rate. We tested the latter display and were very happy with it. It has comfortable viewing angles, a max brightness of 368 nits in the middle of the screen, and 353 nits as an average for the whole area, with a maximum deviation of 9%. The contrast ratio is also decent – 1150:1. The laptop also covers 99% of the sRGB color gamut.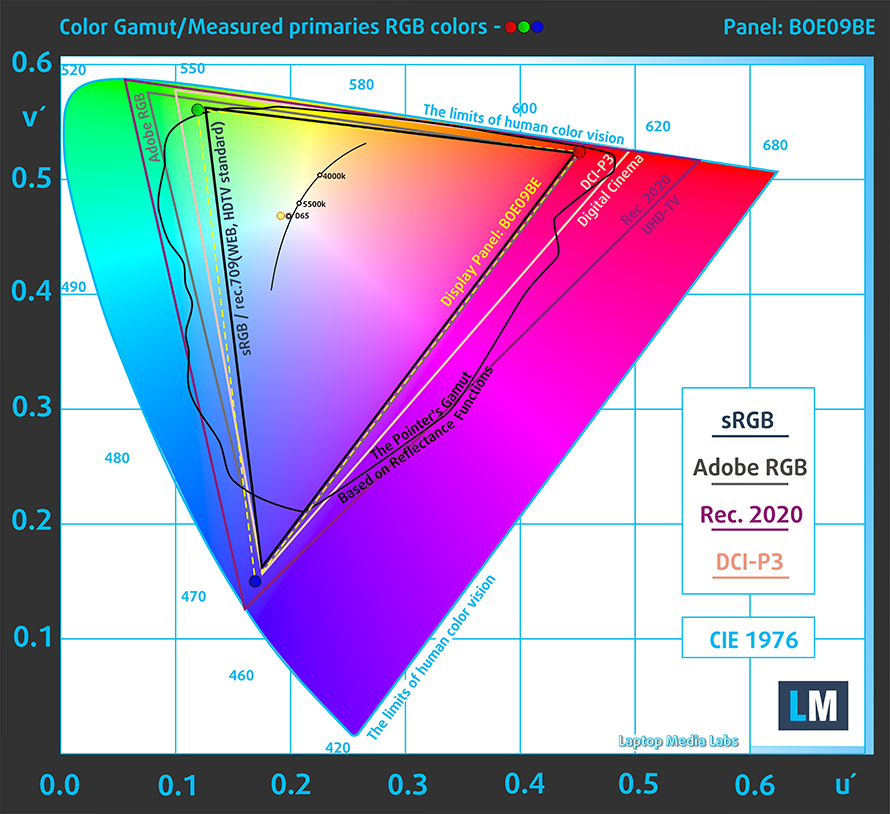 The contrast ratio is a bit off the line with the stock settings but got a lot better when we applied our Design and Gaming profile. Here are the results of our color accuracy test, which uses the 24 commonly used colors like light and dark human skin, blue sky, green grass, orange, etc, with the factory settings (left) and with our Design and Gaming profile applied (right).
Buy our profiles
Since our profiles are tailored for each individual display model, this article and its respective profile package are meant for HP Victus 16 (16-e0000) configurations with 16.1″ Full HD IPS BOE BOE09BE.
*Should you have problems with downloading the purchased file, try using a different browser to open the link you'll receive via e-mail. If the download target is a .php file instead of an archive, change the file extension to .zip or contact us at [email protected]
Read more about the profiles HERE.
In addition to receiving efficient and health-friendly profiles, by buying LaptopMedia's products you also support the development of our labs, where we test devices in order to produce the most objective reviews possible.
3. Battery life
With a battery unit of 70Wh and hardware of this caliber, you wouldn't expect brilliant results. Still, the laptop managed to endure through 10 hours and a half of Web browsing, and 7 hours and 40 minutes of video playback. We conduct the battery tests with Windows Better performance setting turned on, screen brightness adjusted to 120 nits, and all other programs turned off except for the one we are testing the notebook with.

2 reasons NOT to buy the HP Victus 16 (16-e0000)
1. Design and build quality
As this is a budget laptop, there were some cost-cutting measures. The plastic exterior does look good, but the lid needs some strengthening work, which we hope to see in the second generation Victus laptop. The current one opens with a single hand, but the hinges are unstable and leave it wobbling whenever you bump into the desk or the table where you have the laptop set up.
On the flip side, we really like the V on the lid. It feels distinct, while also keeping the same scheme as other HP devices. ZBook laptops have a Z on their lid, Victus laptops have a V, and OMEN devices have a Gem embedded onto them.

2. Cooling
The cooling setup leaves a lot to be desired, especially when you factor in the Ryzen 7 5800H that is inside. The solution consists of two heat pipes that cool both the CPU and GPU, two heat spreaders for the VRMs and VRAM, and two fans on the two sides of the laptop.

Max CPU load
| AMD Ryzen 7 5800H (45W TDP) | 0:02 – 0:10 sec | 0:15 – 0:30 sec | 10:00 – 15:00 min |
| --- | --- | --- | --- |
| HP Victus 16 (16-e0000) | 3.29 GHz (B+3%) @ 80°C | 3.20 GHz (B+0%) @ 80°C | 3.27 GHz (B+2%) @ 89°C |
| HP Omen 15 (2021, 15-en1000) | 3.33 GHz (B+4%) @ 78°C | 3.33 GHz (B+4%) @ 85°C | 3.42 GHz (B+7%) @ 88°C |
| ASUS ROG Strix SCAR 15 G533 | 3.43 GHz (B+7%) @ 76°C | 3.35 GHz (B+5%) @ 80°C | 3.47 GHz (B+8%) @ 82°C |
| ASUS ROG Zephyrus Duo 15 SE (GX551) | 3.93 GHz (B+23%) @ 81°C | 3.82 GHz (B+19%) @ 86°C | 3.78 GHz (B+18%) @ 93°C |
| ASUS TUF A17 (FA706) 2021 | 3.42 GHz (B+7%) @ 74°C | 3.34 GHz (B+4%) @ 78°C | 3.35 GHz (B+5%) @ 84°C |
When we look at the table above, the Victus 16 brings out the highest temperatures paired with the lowest clock speeds, throughout all stages of our testing.

Gaming comfort
The outside temperatures are really impressive, with the hotspot of the keyboard not going over 40°C.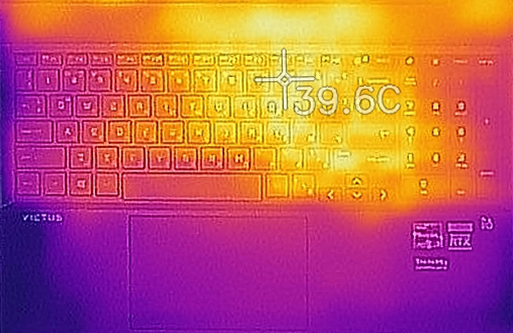 All HP Victus 16 (16-e0000) configurations: