Top 5 reasons to BUY or NOT to buy the HP Pavilion 14 (14-dv0000)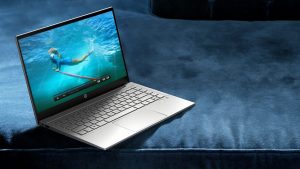 On HP's website, the HP Pavilion 14 (14-dv0000) can be found under the "laptops for school" section. However, branding this device as a "laptop for school" doesn't do it justice, because this a good machine, which can handle more than Zoom calls and the occasional office apps.
This can be a fantastic everyday laptop, due to its zippy performance, both in the CPU and GPU department. The iGPU, is in fact, so good that you can even do some gaming, but don't get your hopes that high up, as we're mostly talking about esports titles. However, there is also the discrete option of the MX450 which is NVIDIA's best power-efficient GPU up to date.
Today we are presenting you with LaptopMedia's top 5 picks about the HP Pavilion 14 (14-dv0000).
HP Pavilion 14 (14-dv0000): Full Specs / In-depth Review
4 reasons to BUY the HP Pavilion 14 (14-dv0000)
1. Design and build quality
The laptop has some premium materials in its build which is greatly appreciated, considering its price. The body is made out of plastic, but the lid is 100% metal. The base material isn't specified, but we get that cool-to-the-touch feeling, which at this point is synonymous with metal. There is some flex in the body, but the lid remains solid. The weight and height are also very manageable, sitting at 1.54 kg and 17mm, respectively. The lid opens easily with a single hand, up until 80°, and after that, you would have to secure the base with your hand. Doing so reveals an Anti-glare display with thin bezels and a 720p 30fps webcam.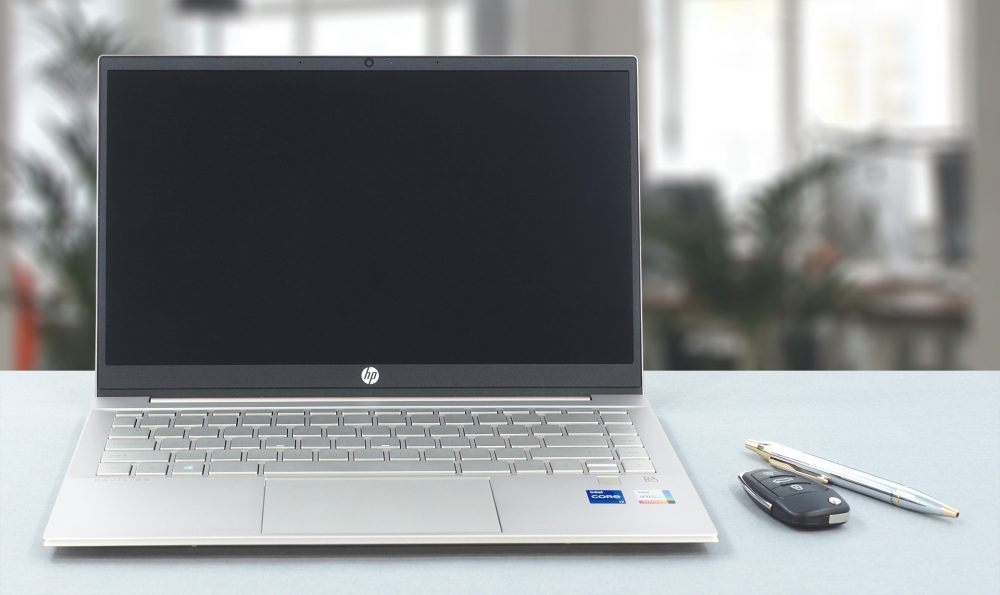 2. Display
There are a total of three display options that come with this device. They all have a diagonal of 14 inches and a 16:9 aspect ratio. The first one has a 768p resolution and uses a TN panel, which at this point is pointless and you should avoid, as IPS panels have become the norm nearly everywhere, due to their superior viewing angles, contrast ratio, and color representation. The second display has a Full HD resolution and is actually the one that we had in our review unit. There is also a 4K display, which is only available in some regions.
The Full HD panel has excellent viewing angles, an average maximum brightness of 266 nits, with a deviation of 14% and a very high contrast ratio of 1420:1. The panel is PWM-free at all brightness levels, which is great for prolonged use. Unfortunately, it covers only 54% of the sRGB color gamut, which is a bummer, but at this price, you should expect it.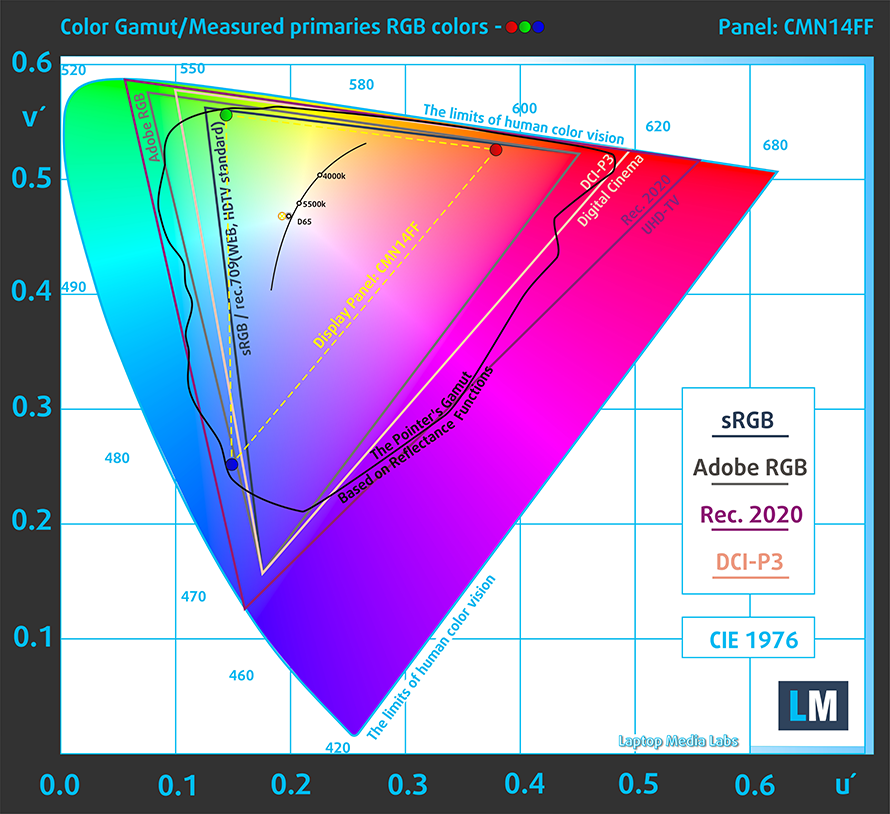 The color accuracy, on the other hand, is decent even without our Design and Gaming, profile, which brought down the dE value from 4.1 to 3.2. You can see the results of the color accuracy test with both the stock settings (left) and with our Design and Gaming profile applied (right).
Buy our profiles
Since our profiles are tailored for each display model, this article and its respective profile package are meant for HP Pavilion 14 (14-dv0000) configurations with 14.0″ CMN14FF (FHD, 1920 × 1080) IPS panel.
*Should you have problems with downloading the purchased file, try using a different browser to open the link you'll receive via e-mail. If the download target is a .php file instead of an archive, change the file extension to .zip or contact us at bg.laptopmedia@gmail.com.
Read more about the profiles HERE.
In addition to receiving efficient and health-friendly profiles, by buying LaptopMedia's products you also support the development of our labs, where we test devices in order to produce the most objective reviews possible.
3. Upgradeability
The laptop comes with upgradeable RAM and storage. There are two SODIMM RAM slots that work in dual-channel mode, increasing the performance, especially in laptops with iGPUs, which heavily rely on fast RAM. According to HP, the laptop only supports up to 16GB of RAM, but we have found that the limit is actually 32GB, which is more than you'll ever need. Storage-wise, there is one M.2 PCIe x4 slot for future expansion.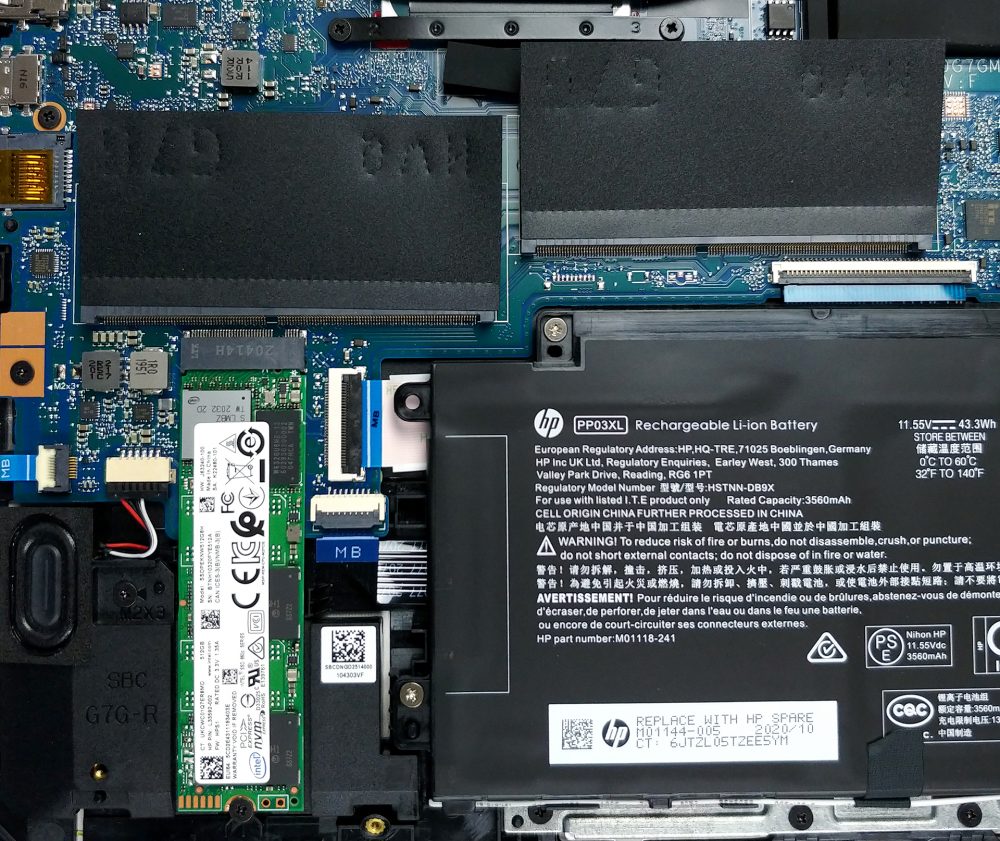 Here is our detailed teardown video, which shows how to safely get access to both the SODIMM and M.2 slots, without damaging the fragile internal components.
4. Input devices
The keyboard+touchpad combo might be the best feature that this notebook has to offer. The keyboard has pretty large keycaps, which is always appreciated, and the font is big and easy to read. The power button is very similar to the Backspace and Delete buttons so you might accidentally press it, but HP has thought of that and made sure that one press does nothing. The keyboard has long key travel, and clicky feedback. Some units, get a two-stage backlight, which further makes it more comfortable during late hours. The only caveat is the small Up and Down arrow keys, but we're just picking at straws here.
The touchpad is also quite big, and while it doesn't have that smooth of a surface, it offers accurate tracking. Next to the touchpad, you will find a fingerprint reader and a Bang&Olufsen logo, which signifies that they have tinkered with the speaker setup to make it sound better.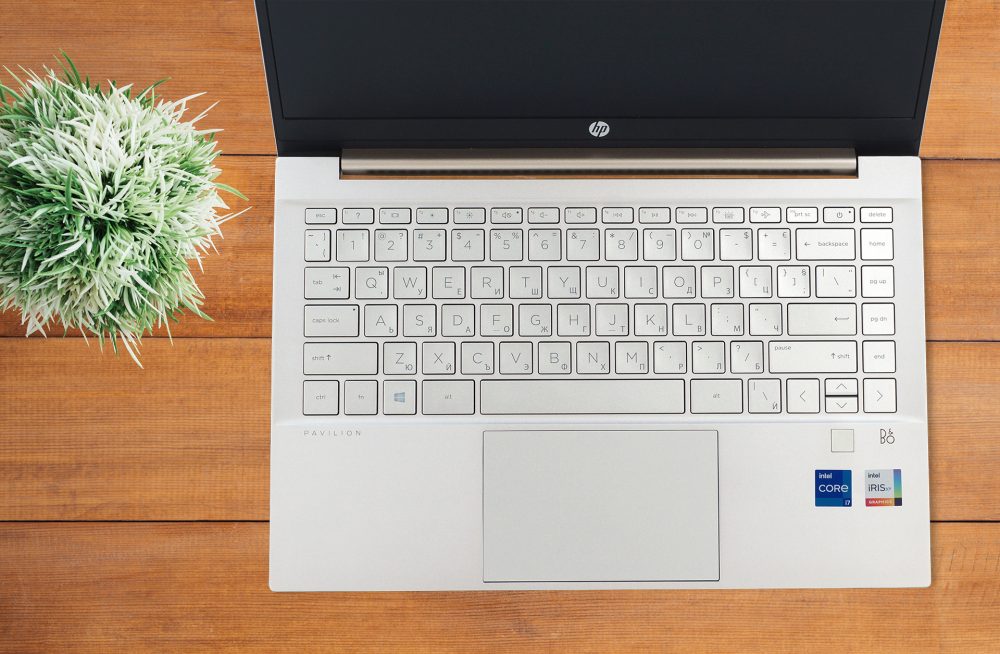 1 reason NOT to buy the HP Pavilion 14 (14-dv0000)
1. Battery life
The laptop has a relatively small 43.3Wh battery unit, which for a 14-inch laptop is pretty good. However, the battery life wasn't as good as we expected, with the laptop lasting for only 7 hours of Web browsing and 8 hours and 38 minutes of video playback. As always we do our tests with the Windows Better performance setting turned on, screen brightness adjusted to 120 nits, and all other programs turned off except for the one we are testing the notebook with.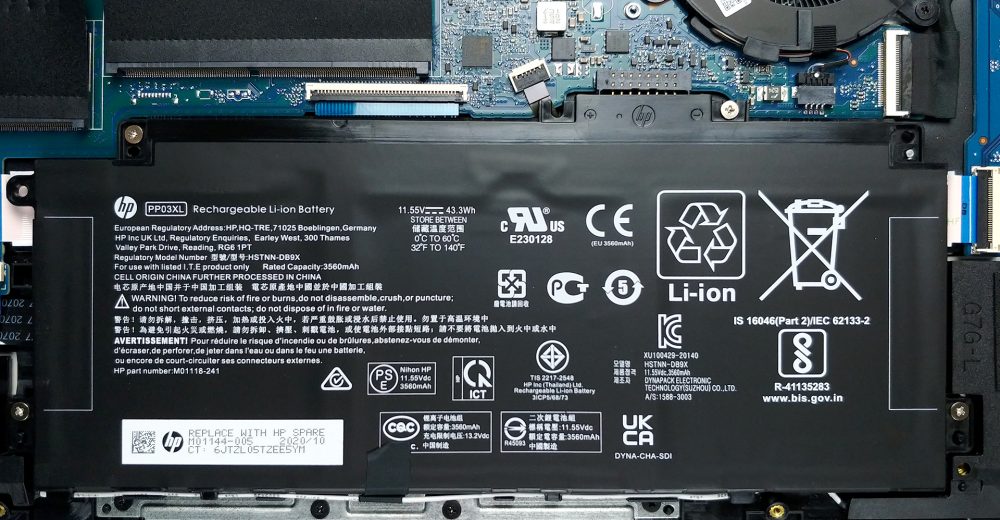 All HP Pavilion 14 (14-dv0000) configurations: