Top 5 reasons to BUY or NOT to buy the Dell XPS 13 9310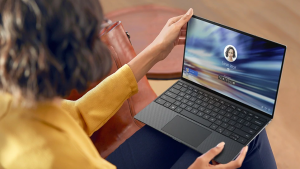 High-end laptops are always a treat to use. After all, they are the pinnacle of laptop design and performance, which ensures a great user experience. When talking about high-end devices, the XPS lineup from Dell gets mentioned the most out of everyone. That is why for today we have the latest device from the XPS lineup, the XPS 13 9310. It combines premium build quality with great performance that can handle just about anything that you throw at them. Furthermore, this isn't only an ultrabook but can act as a very good business device, due to being part of the Intel Evo platform, which ensures better performance and stability.
Today we are presenting you with LaptopMedia's top 5 picks about the Dell XPS 13 9310.
Dell XPS 13 9310: Full Specs / In-depth Review
3 reasons to BUY the Dell XPS 13 9310
1. Design and build quality
The XPS 13 comes in a premium shell, to match the premium price tag that it charges. The lid and body are made from solid aluminum, with the base coming in two distinct materials, depending on the color that you go for. If you were to opt-in for the black color, you get carbon fiber, which is fantastic, and the white one has glass fiber. The body is rigid, with just a tiny bit of flex and the design is also beautiful, with sharper corners and sharp edges. Weighing only 1.20 kg, and being just 14.8 mm tall, this is a very portable device, which you can just put in your bag and forget about.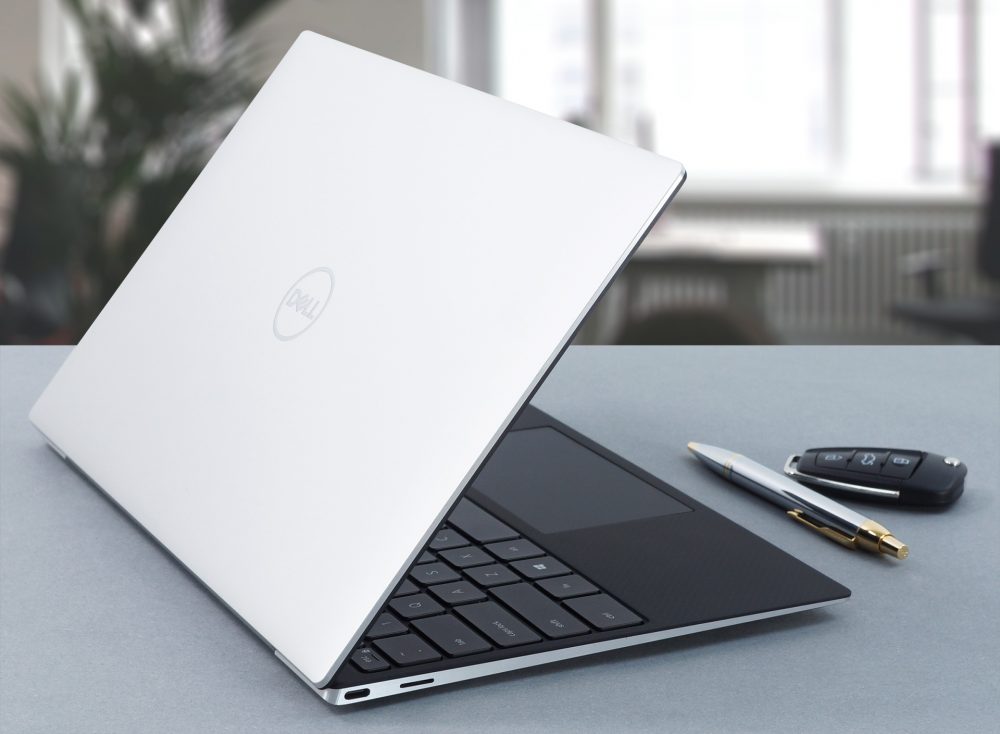 The lid opens easily with a single hand, and doing so, reveals a great keyboard and touchpad combo. The keyboard has very satisfying and clicky feedback, and a relatively long key travel, considering the very slim profile of the device. The touchpad is also great to use, as it has a big enough size, as well as a very smooth surface, which ensures great and accurate gliding and tracking.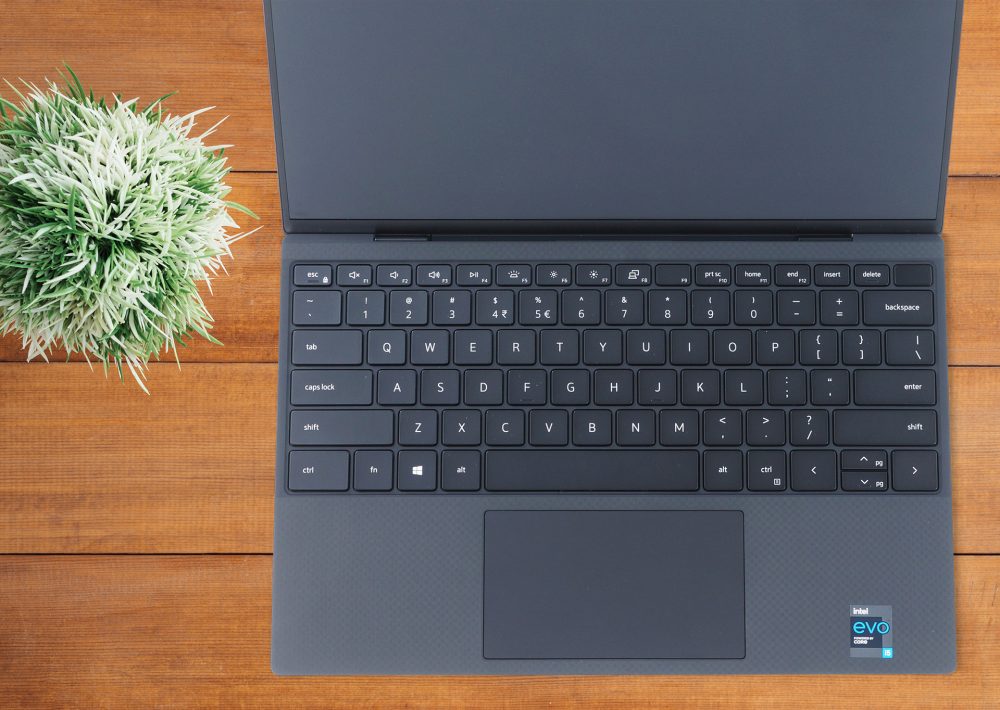 2. Display
The XPS 13 9310 comes with a choice between two displays, both of which have a 16:10 aspect ratio. The base one has a Full HD+ resolution and is actually the one that or review unit had. The other panel is a 4K one, which should definitely be great to use. The Full HD+ panel has comfortable viewing angles, a very high contrast ratio of 1730:1, and a maximum brightness of 544 nits, with a maximum deviation of just 8%. It's not all sunshine and rainbows though, as the panel uses high-frequency PWM to adjust its brightness, which stops after 140 nits of brightness. To eliminate the issue completely, you can purchase our Health-Guard display profile.
In terms of color coverage, in our test, the panel showed a 96% coverage of the sRGB color gamut.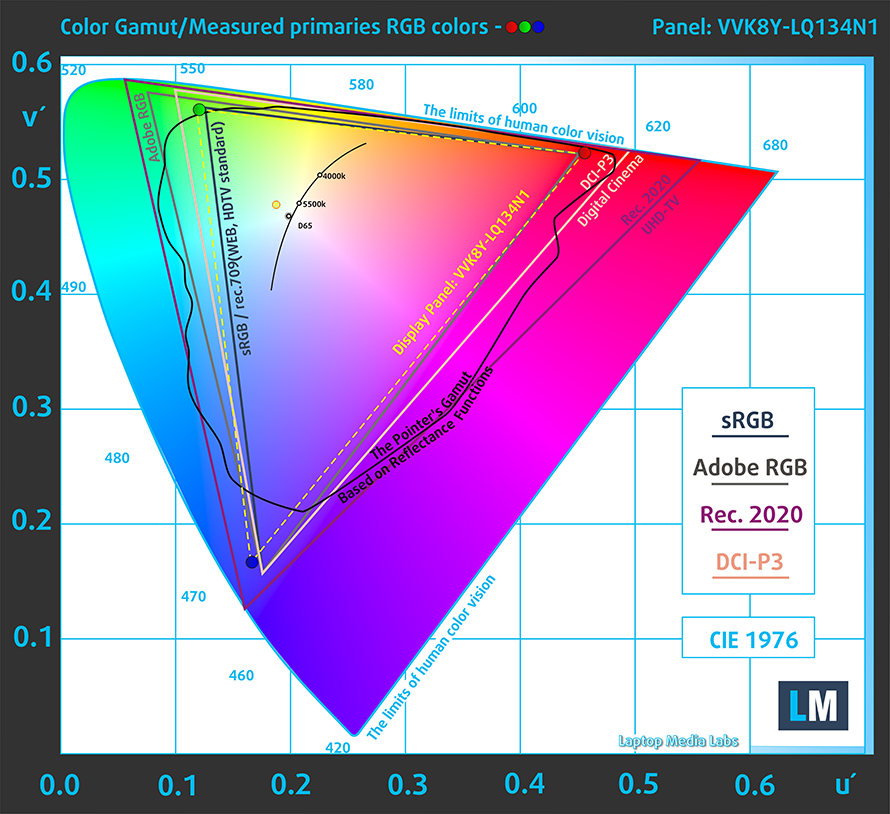 Moving over to the color accuracy, we performed the test with both the factory settings (left) and with our Design and Gaming profile (right). We got a significantly better dE value of 1.2 with our profile.
Buy our profiles
Since our profiles are tailored for each individual display model, this article and its respective profile package are meant for Dell XPS 13 9310 configurations with 13.4″ Sharp VVK8Y-LQ134N1 (SHP14F9) (FHD+, 1920 × 1200) IPS panel.
*Should you have problems with downloading the purchased file, try using a different browser to open the link you'll receive via e-mail. If the download target is a .php file instead of an archive, change the file extension to .zip or contact us at [email protected]
Read more about the profiles HERE.
In addition to receiving efficient and health-friendly profiles, by buying LaptopMedia's products you also support the development of our labs, where we test devices in order to produce the most objective reviews possible.
3. Battery life
With a battery size of 52Wh, the machine endured through 12 hours and 55 minutes of Web browsing and 10 hours and 20 minutes of video playback. As always, we do our tests with the Windows Better performance setting turned on, screen brightness adjusted to 120 nits and all other programs turned off except for the one we are testing the notebook with.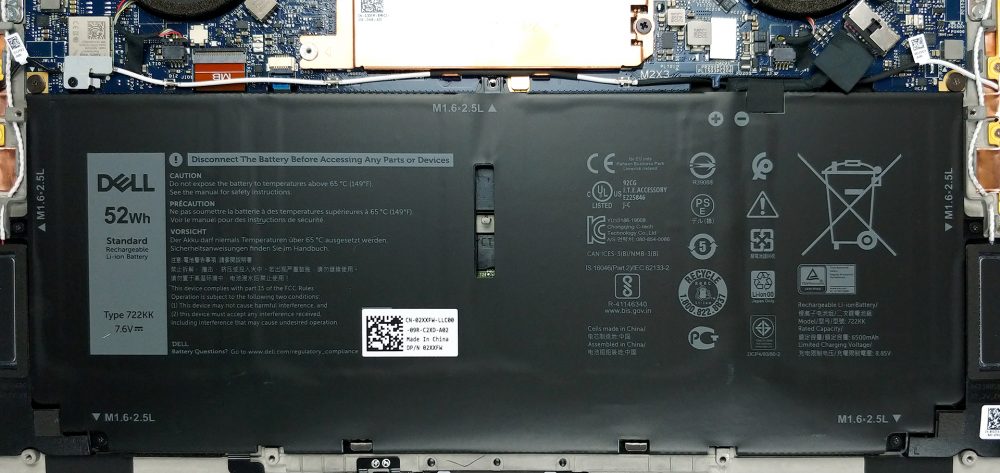 2 reasons NOT to buy the Dell XPS 13 9310
1. Upgradeability
The laptop comes in several memory configurations, which is great because the RAM is soldered onto the motherboard, making upgradability impossible. The storage, on the other hand, is able to be expanded, through an M.2 PCIe x4 slot, which sits under a copper plate.

If you want to upgrade the storage, but have no idea how, here is our detailed teardown video, which shows you all the necessary steps, which after completing, you get access to the M.2 slot.
2. Cooling
The cooling isn't exceptional as well, as the solution consists only of a single bulky heat pipe, with two heat spreaders and two fans. As you can see from our stress test, the two small fans struggled to cool down the I5-1135G7, with the CPU reaching 100°C in the first seconds of the test. The temperature remained the same in the second part of the test, with the clock speed taking a hit. In the third and final part, the CPU was sitting at 1.65GHz with a temperature of 73°C.
| Intel Core i5-1135G7 (15W TDP) | 0:02 – 0:10 sec | 0:15 – 0:30 sec | 10:00 – 15:00 min |
| --- | --- | --- | --- |
| Dell XPS 13 9310 | 3.15 GHz (B+31%) @ 100°C @ 40W | 2.73 GHz (B+14%) @ 100°C @ 30W | 1.65 GHz @ 73°C @ 15W |
| Dell Vostro 15 5502 | 3.33 GHz (B+39%) @ 100°C @ 38W | 1.96 GHz @ 72°C @ 14W | 2.02 GHz @ 74°C @ 15W |
| Dell Vostro 14 5402 | 3.02 GHz (B+26%) @ 99°C @ 29W | 2.61 GHz (B+9%) @ 99°C @ 25W | 2.00 GHz @ 76°C @ 15W |
| MSI Modern 15 (A11X) | 3.59 GHz (B+50%) @ 94°C @ 44W | 3.45 GHz (B+44%) @ 95°C @ 40W | 3.18 GHz (B+33%) @ 91°C @ 34W |
| Lenovo ThinkBook 14s Yoga | 3.52 GHz (B+47%) @ 94°C | 3.24 GHz (B+35%) @ 94°C | 2.63 GHz (B+10%) @ 75°C |
| Lenovo ThinkPad E15 Gen 2 | 3.35 GHz (B+40%) @ 90°C | 3.14 GHz (B+31%) @ 71°C | 2.57 GHz (B+7%) @ 64°C |
| HP ProBook 450 G8 | 3.73 GHz (B+55%) @ 90°C | 2.44 GHz (B+2%) @ 71°C | 2.09 GHz @ 64°C |
| Lenovo Yoga 7 (14) | 3.34 GHz (B+39%) @ 94°C | 2.97 GHz (B+24%) @ 94°C | 2.39 GHz @ 75°C |
| Acer Aspire 5 (A514-54) | 3.54 GHz (B+48%) @ 87°C | 2.01 GHz @ 66°C | 2.03 GHz @ 67°C |
Comfort during full load
The laptop also gets quite warm, with the surface temperature reaching 48.1°C. In addition to that, the fans were quite loud, due to their small size, even without there being that big of a load on the device.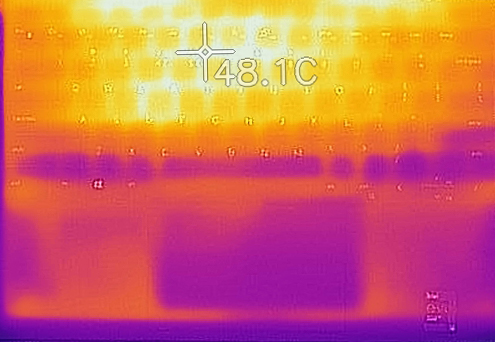 All Dell XPS 13 9310 configurations: